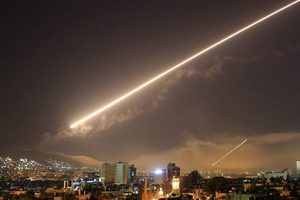 Syrian air defense systems protecting Damascus - the oldest continuously-inhabited city on Earth - from Western airstrikes, 14 April 2018
If you look for truth, you may find comfort in the end; if you look for comfort you will not get either comfort or truth only soft soap and wishful thinking to begin, and in the end, despair.
- C. S. Lewis
Recent Comments
Yes, this can be done privately, and in a way which won't be exposed to the authorities. Also, this explanation about refusal is absurd, unless...
---
They should have been starved out a long, long time ago...Starting with all that happy post war horseshit the GOV was pumping on everyone while...
---
Dude, everyone knows he is Mccains girlfriend...
---
Yeah, that's just water vapor coming out of all those airplanes! According to a "mainstream climatologist" that Dane Wigington...
---
And if the Nazca petroglyphs we've known about for a while weren't enough for you, they just discovered a bunch more