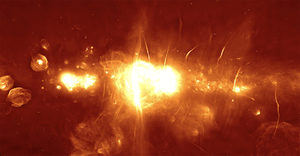 Galactic Center: South Africa's MeerKAT Radio Telescope captured this panorama of the center of the Milky Way. Area approx. 1,000 light-years by 500 light-years
Who controls the past controls the future. Who controls the present controls the past.
- George Orwell
Recent Comments
Global warming causes global cooling as a reaction the total effect known as climate change. Simple.
---
Well Jonathan , the Israelis couldn't care less for a peace process in the area, so...
---
I can't get a handle on certain things and feminism is one of them. As a man, I have tried to practice "feminism," sometimes to a fault (whatever...
---
Boycott's just plain Work ! Keep on bending over..... Eventually someone is going to have a push. We all can see the gargantuan waste of plastic...
---
Niall, what basement did you drag this guy out of? His style reminds me of the reject pile of the John Birch Society or Alex Jones. Friedrich...