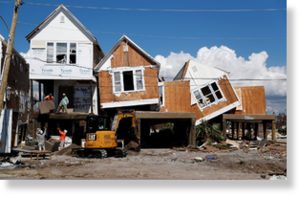 Damaged houses in Mexico beach, Florida, as a result of hurricane Michael are seen as the clean up continues
The great danger is that under the pressures of anxiety and fear, the alternation of crisis and relaxation and new crisis, the people of the world will come to accept gradually the idea of war, the idea of submission to total power, and the abdication of reason, spirit and individual conscience. The great peril of the...cold war is the progressive deadening of conscience.
- Thomas Merton
Recent Comments
In an Infinite Universe, anything is possible given enough time and chances. Could a universal consciousness be created in the distant, infinite...
---
He's balanced and rational; what's not to like about the man . . .
---
scientist are people who are usually funded by other people to guess at things and hope they are right which is hardly ever andmaybe win some kind...
---
And all of the attention drawn to this hurts how? LOL I wasn't even aware of this meme until these sorts of articles and messages showing up in...
---
when it comes to religion/believes, do geniouses have more qualified oppinions than idiots?