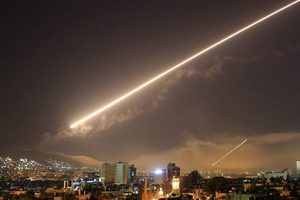 Syrian air defense systems protecting Damascus - the oldest continuously-inhabited city on Earth - from Western airstrikes, 14 April 2018
In the Truth there is no news, and in the News there is no truth
- Popular Russian saying under Soviet Communism
Recent Comments
The thing is, the very people who push themselves forward as candidates for public office are the very people we should not elect. These people...
---
Hasbara memo: "When Israelis murder Palestinians, it's a tragedy — for Israelis." [Link] "We can forgive the Arabs for killing our children. We...
---
Photo showing a handsome young white male smiling, ready to take contraceptive pill, when it should have shown a male from the REALLY...
---
So any Israeli feeling slightly uncomfortable about the cold blooded murder of children should be stripped of their citizenship?
---
The First Human Symbol!! OMG! This is SO Amazing!!! I cannot imagine anyone really believing this theory. Harder still is imagining someone...