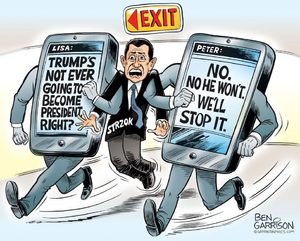 Strzok has left the building
What is truth anyway? The truth is the essence of something, its natural state, something as it really is. It is really a quest for love, because to truly love something we must know it for what it really is. Perhaps we can sense in an unconscious way that there is a deeper truth to everything and everyone, and we are led to search for the truth about it, so that we can truly love it for what it really is.
- Joe Quinn
Recent Comments
You would never get this kind of eloquence and common sense from the State Dept, much less Pompeo.
---
Does AI really means Alien Intelligence instead?
---
"I could easily send ya'll about a 100 links to unconscious and systemic racism and white fragility" Why don't you then? Once again, short on...
---
Yes WOW. What wonderful beliefs. A World Dialogue Forum would only be possible if every state recognized that it's own peace and prosperity is...
---
So by the time the children end game this mess no one will be trading with anyone . . .