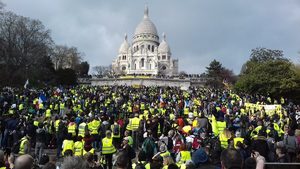 Acte XIX: Sacré-Coeur, Paris, 23 March 2019
There is one thing stronger than all the armies of the world, and that is an idea whose time has come.
- Victor Hugo
Recent Comments
I hope there are arrests, trials and executions forthcoming.... Clintons, Comey, Odumba, Lynch, Holder, Ratface Podesta, Strzok, Paige, McCabe and...
---
"Those claims are not meant to inform or engage in legitimate debate." Is that a joke? A legitimate debate on American support for Israel? A...
---
Anyone who has bought into the whole gender identity scam is a fruit loop if they disapprove of Michael Jackson. I disapprove of it all....
---
[/"They are saying, you can't even be a good American and be a supporter of Israel. This isn't a 'normal' debate. ] Actually it is they saying you...
---
The screamer will hit a brick wall shortly I hope *and believe(. [Link] Kent