About LQB
Name: Larry Bowers

Born Joplin, Missouri.
Schooling/Profession - Electrical Engineer (Retired)
15+ years of research into esoteric aspects of all religions and the nature of this reality - Truth. Much time spent identifying the threads and integrating them into the bigger picture - Ponerology is a big part.
Currently continuing research into many areas and writing for Sott.net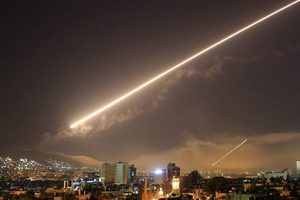 Syrian air defense systems protecting Damascus - the oldest continuously-inhabited city on Earth - from Western airstrikes, 14 April 2018
In the Truth there is no news, and in the News there is no truth
- Popular Russian saying under Soviet Communism
Recent Comments
Sustainable agricultural practice has become unsustainable. In the rush for profit, life takes a back seat. At this pace, future generations will...
---
And all of them will depend on easily duped (or even disabled) satellite navigation. I know that many pilots depend on it too nowadays, but at...
---
Well, metre is an unit based on size of Earth, just like nautical mile. But the metre is kind of more natural (being derived from base ten,...
---
everybody knows Macron is a delusional bigmouth who tries very hard to earn himself some reputation. and always on the back of others, just ask...
---
History of Windows started then. There were no programming languages yet, so he started by designing a logo. It was initially rejected, but...