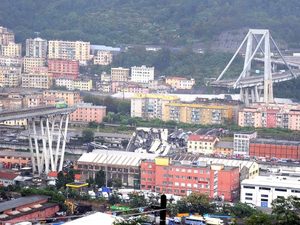 14 August 2018: Morandi Bridge in Genoa, Italy, collapses during a storm, killing 35 people
If the doors of perception were cleansed, everything would appear to man as it is, Infinite. For man has closed himself up, till he sees all things thro' narrow chinks of his cavern.

'The Marriage of Heaven and Hell'
- William Blake
Recent Comments
STOP EATING PROCESSED FOODS YOU FAT FATTYS. A slim few have thyroid conditions which contribute to their obesity, but the rest of you are just...
---
"Sorry Naill, It appears you may be expressing a belief that you've been indoctrinated to believe is true." HAH HAH HAH. That's you, Blisslife,...
---
One wonders if internal knowledge of a tsunami of lawsuits was the real reason, why Monsanto got sold, so as to let Bayer pay for the mess. Did...
---
Astrology of the Caspian deal [Link]
---
"That is overwhelmingly proven fact." That's a lie. Cigarettes are innocent.