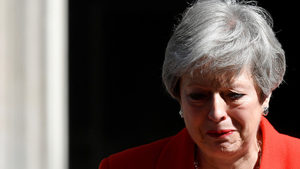 Time to say goodbye: 'Brexit' claims its second Tory PM
What fetters the mind and benumbs the spirit is ever the dogged acceptance of absolutes.
- Edward Sapir
Recent Comments
He doesn't make the correct points. Reason is useful in evolution, when you need an extra motivation to do something beyond what is most...
---
Do not become too focused on glyphosate alone. All agricultural formulated weed killers and desiccants have very similar biological /...
---
It took some real conjones to pull that stunt . . .
---
China doesn't have to limit exports to USA of ree, simply produce less. Their hand has already been strengthened in recent years as mines all over...
---
Very, very good : Even as the US poses as "victor" over ISIS in Iraq and Syria, it has spent its time ferrying fighters back to Europe where they...