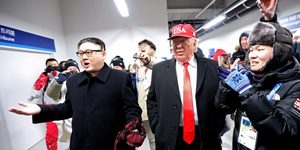 Did The Donald and Rocket Man secretly meet at the Winter Olympics in PyeongChang?
When a man knows he is to be hanged in a fortnight, it concentrates his mind wonderfully.
- Samuel Johnson
Recent Comments
Brilliant article Pierre! Well written and connects a lot of dots. [This is all about the destruction of everything human]. These liberals,...
---
More balony title says lavrov said US must, first sentence says lavrov suggest they leave not must leave
---
You can strip my AWS subsidized Amazon merchandise from my cold dead fingers... AWS may be big and evil, but it subsidizes my lifestyle by...
---
There's something wrong with the whole story.
---
I would not put it past the FBI to be lying about how they "failed to investigate" this kid. Knowing them, I would say they purposely let him be...