About Eight
In Christianity, eight is a symbol of the resurrection of Christ and the hope for the resurrection of humankind.
In China the number eight is considered lucky because it sounds like the word for "prosper."
Eight is also the number of the major directions of the compass in its simplest form and relates to cosmic order and equilibrium.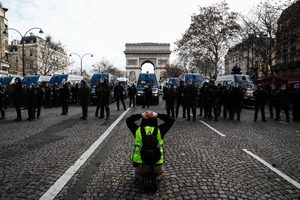 L'elite contre le peuple
It is easier to perceive error than to find truth, for the former lies on the surface and is easily seen, while the latter lies in the depth, where few are willing to search for it.
- Johann Wolfgang von Goethe
Recent Comments
"only done in an uncivilized and barbaric country" whose attempt was it to bring America into this conversation?
---
You have no place on our platforms LOL..."our" platforms? This is precisely why technologies like mesh networks are starting to take off, because...
---
The United States does not have a monopoly on idiocy. Canada obviously is catching up.
---
The answer? Quit using their stupid effing social media.
---
Throw the bums out. France needs another Charles de Gaulle.