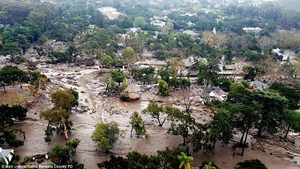 9 January 2018: Mudflows cause at least 20 deaths in Montecito, California
People convince themselves of their own lies, becoming victims of their own inventions as they begin to direct their lives by standards of behavior, ideas, feelings, or instincts which do not correspond to their inner reality. What is truly serious in this matter is that the individual loses all points of reference regarding what comprises truth, and what comprises lies. He becomes used to considering as true only that which is convenient for his personal interests; everything that is in opposition to his self-esteem or in conflict with already established prejudices, he considers false.
- John Baines
Recent Comments
Saw this coming years ago when the draconian Security organisation was formed with it's invasive body and cavity searches on anyone coming off an...
---
1 PopeMobile and 12 Bodyguards... Is that what's needed when there ain't no god to do the job?
---
Well if the Syrian Government is going to shoot down Turkish planes, what's stopping them from doing the same to the Israeli invaders...
---
I am officially. triggered. [Link]
---
Typically piss poor witness statement: "Joey went over, grabbed him by his shoulders," she said. "The guy slung around and slung Joey to the...