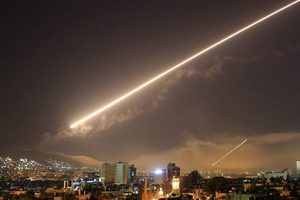 Syrian air defense systems protecting Damascus - the oldest continuously-inhabited city on Earth - from Western airstrikes, 14 April 2018
If you look for truth, you may find comfort in the end; if you look for comfort you will not get either comfort or truth only soft soap and wishful thinking to begin, and in the end, despair.
- C. S. Lewis
Recent Comments
That's nice. More ammo for the anti-AGW [Link] crowd and it does look good but so far it's just 'weather'. It takes many years of data to identify...
---
I've come to view anything Donald says as frivolous, shallow and for the most part, false. I'm really sad to admit that because, like many people,...
---
Good video presentation. Thanks
---
like was said before it was all staged for the people nothing more
---
Wow! A personal death wish and a backhanded compliment all in the same thought. Bail out guys.