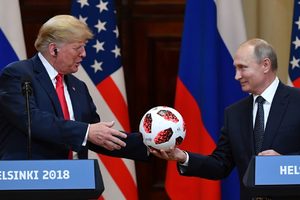 So much winning
Who controls the past controls the future. Who controls the present controls the past.
- George Orwell
Recent Comments
Pepe Escobar mentioned about a "G-3" or that Trump would like something along those lines; with Russia and China. Who knows if it will work but it...
---
What a wonderful day for humanity - some sanity in our world leaders. Trump: I would rather take a political risk in pursuit of peace than to risk...
---
Great article Zoya! You're onto objective reality here!
---
" Meanwhile, "Mr. Horowitz got a call four times from someone wanting to brief him about this, and he never returned the call," Gohmert said - and...
---
"expressed during the interview that she believes "absolutely in Israel's right to exist" " Well, that's a good indication that she'll be handed...