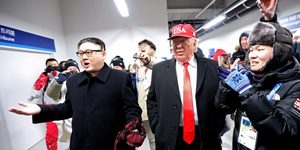 Did The Donald and Rocket Man secretly meet at the Winter Olympics in PyeongChang?
The West won the world not by the superiority of its ideas or values or religion (to which few members of other civilizations were converted) but rather by its superiority in applying organized violence. Westerners often forget this fact; non-Westerners never do.
- Samuel P. Huntington
Recent Comments
You can also buy/make magibicarb water
---
So do it, you hypocrite. You need permission?
---
The practice of this man (as described) is fully legal in Europe. Someone buying a used computer with registered Windows (I assume it is an OEM...
---
Yes, and during the Delphic heyday, the oracle was also an emitter of toxic gases. We are experiencing core heating due to the absorption of...
---
@the police station i glimpsed my file, i have a antecedent for computer fraud. At the supposed time i had never owned a computer, nor had any...