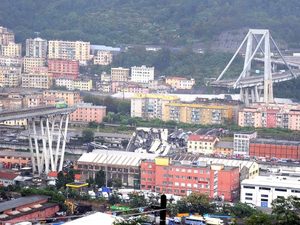 14 August 2018: Morandi Bridge in Genoa, Italy, collapses during a storm, killing 35 people
If the doors of perception were cleansed, everything would appear to man as it is, Infinite. For man has closed himself up, till he sees all things thro' narrow chinks of his cavern.

'The Marriage of Heaven and Hell'
- William Blake
Recent Comments
If Iran needs "normalising", then Palestinians need and deserve it more; surely, the Jewish Zionist state is very far from normal, yet the U.S....
---
The greatest disaster in human history is still actively unfolding - the fat lady still attending voice training lessons. What is being visited...
---
This is a really good article, the elephant in the living room are the ones with the organisation and the intel to pull these manouvers off. Bravo...
---
we just had 3 eclipses, 2 in leo/aquarius axis
---
The US betrayed Turkey by sponsoring the failed military coup in 2016 led by Fethulah Gullen. Russia's warning only narrowly prevented the...