About Robertom30 Hello,
I've been reading about Laura since very long, since about 2006. Laura's brilliance and hard work amazes me and have always souped me up. I live in Dominican Republic, Santo Domingo. I'm a lawyer. I'm just a truth seeker who is not completely buying the stories the media in my country and elsewhere have been trumpeting. I like Laura very much but i also take everything with a grains of salt, so as to really earn my knowledge. No one has absolute truth.
Warm Regards to Everybody, keep hard work up!
Roberto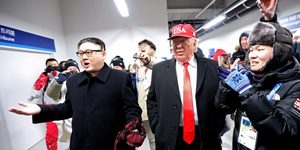 Did The Donald and Rocket Man secretly meet at the Winter Olympics in PyeongChang?
When a man knows he is to be hanged in a fortnight, it concentrates his mind wonderfully.
- Samuel Johnson
Recent Comments
Prof Rudolph Windsor wrote something on that, in his book on Timbuktu. It can be downloaded. Check it out! Shalom
---
American lunacy has never shown brighter. It isn't that the night is darker either.
---
I don't give a crap about so-called ethnicity. There are two races: The race of more-or-less soulful beings, and the race of more-or-less soulless...
---
This sort of endorses what I have said in my bit on America looking into the mirror. Shalom
---
I wrote an earlier bit on America looking into the mirror. Apparently the folks who are calling North Korea the murderous regime, have done their...