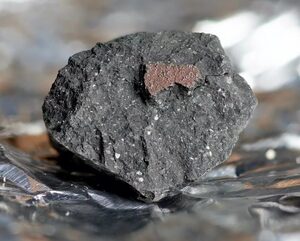 A piece of the space rock that
lit up skies over England on Feb. 28
has been found.
The singed hunk of
asteroid
was discovered in the driveway of a house in Winchcombe, a small town in the county of Gloucestershire in southwestern England.
The rock, which weighs nearly 10.6 ounces (300 grams), is the first
meteorite
found in the UK since 1991, experts said, and the first known carbonaceous chondrite ever discovered in the country.
Carbonaceous chondrites
are especially pristine and primitive meteorites that generally contain lots of organic material, including complex molecules such as amino acids. Studying carbonaceous chondrites can shed light on the early solar system and how the building blocks of life found their way to Earth, researchers say.
Such study is already under way at the Natural History Museum in London, where the meteorite now resides.
"This is really exciting. There are about 65,000 known meteorites in the entire world, and of those only 51 of them are carbonaceous chondrites that have been seen to fall like this one,"
Sara Russell, a meteorite scientist at the museum,
said in a statement
.
"It is almost mind-blowingly amazing, because we are working on the asteroid sample-return space missions Hayabusa2 and OSIRIS-REx, and this material looks exactly like the material they are collecting," Russell said. "I am just speechless with excitement."