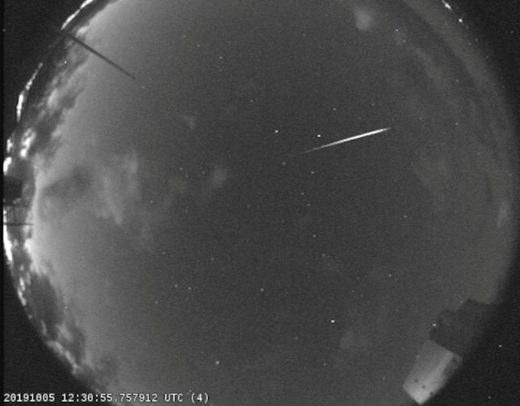 This weekend, NASA's Network of All Sky Meteor Cameras captured a rare fireball--a "Daytime Sextantid." Here it is disintegrating over Arizona just before sunrise on Saturday, Oct. 5th:
Daytime Sextantids are so rarely seen that the American Meteor Society
says
"spotting any [Daytime Sextantid] activity would be a notable accomplishment." Consider it noted. NASA cameras on
Kitt Peak
,
Mount Lemmon
, and
Mount Hopkins
caught the fireball in mid-flight, allowing a solid triangulation of its orbit and identification as a Daytime Sextantid.
Daytime Sextantids are related to the Geminid meteors of December. Both belong to the "
Phaethon-Geminid Complex
"--a complicated swarm of debris that includes "
rock comet
" 3200 Phaethon along with asteroids 1999 YC and 2005 UD. The ensemble appears to be the remains of a giant
breakup
of ... something ... thousands of years ago.