I love celestial coincidences. There are just so many of them.
Why do some of the closest bright stars to the solar system lie in front of the bright stars of the winter Milky Way? This foreground and background have nothing to do with each other, but they combine to make our winter evening sky especially starry-bright.
Why, from Earth's viewpoint, do planets shine just about as bright as the brightest stars?
Why are the apparent sizes of the Moon and Sun so nearly alike? They're just right to give us the most spectacular-looking (if rather rare) total solar eclipses.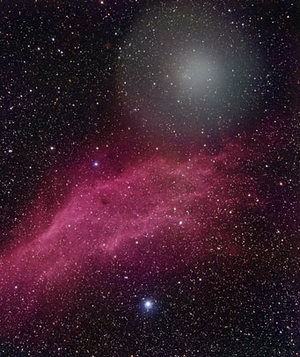 ©S&T: Dennis di Cicco & Sean Walker
On the evening of March 5th, big dim Comet Holmes was passing big dim NGC 1499, the California Nebula in Perseus. For this image Dennis di Cicco took 30-minute exposures through blue and green filters and a 50-minute exposure through a red filter, using a 5-inch Tele Vue NP127is refractor and an Apogee U16M CCD camera. Click image for larger view. (Look carefully at the large view and you'll see the faint nucleus of the comet as a tiny red-green-blue streak; it moved between the three exposures.) The field is roughly 3° tall, with north up.