For backyard stargazers, the next few nights are the best time to see green Comet 103P/Hartley 2 as it approaches Earth for an 11-million-mile close encounter on Oct. 20th. Set your alarm for the dark hours before dawn, go outside, and look straight up. You will find Hartley 2 not far from the bright star Capella:
sky map
. Although the comet is barely visible to the unaided eye, it is easy to find in binoculars and looks great through a backyard telescope.
Doug Zubenel sends this picture (Oct. 9) from the Monument Rocks National Landmark in Kansas: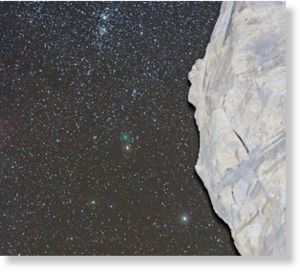 "To photograph the comet, I used a Canon Rebel XTi digital camera with an 85mm Nikkor lens," says Zubenel. "This picture is a single 2-minute exposure begun with the lens focused on the rocks, with a quick flash, then focus-shifted to infinity for the remainder of the time at ISO 800."
NASA scientists say 103P/Hartley 2 is one of the most active comets they've seen; it has a big atmosphere and copious outgassing from jets in the nucleus. Amateur astronomers are encouraged to monitor the action and submit their images here.
More images: from
Rolando Ligustri
using a robotic telescope in New Mexico; from
Mike Broussard
of Maurice, Louisiana; from Fredrik Broms of Kvaløya, Norway; from
Tamás Ábrahám
of Zsámbék, Hungary; from
Efrain Morales Rivera
of Aguadilla, Puerto Rico; from
P-M Hedén
of Vallentuna, Sweden; from
Nick Howes
using the Faulkes North Telescope in Hawaii.