Contrary to expectations for a small icy body, much of the comet dust returned by the Stardust mission formed very close to the young sun and was altered from the solar system's early materials.
When the Stardust mission returned to Earth with samples from the comet Wild 2 in 2006, scientists knew the material would provide new clues about the formation of our solar system, but they didn't know exactly how.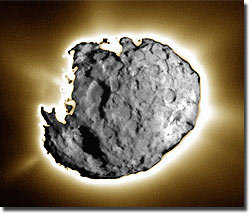 ©NASA/JPL
Combined long- and short-exposure images captured during the Stardust flyby of the comet Wild 2.