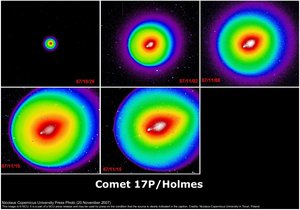 ©Nicolaus Copernicus University in Toruń.
Sequence of images of Comet 17P/Holmes obtained with the TSC 60/90 telescope in the V filter. They show the increase in the comet's envelope size. The colours are chosen here in order to best show the cometary nucleus (the bright point in the centre) and matter moving away from the nucleus (to the right of the nucleus).
Comet 17P/Holmes has been intriguing astronomers since the end of October, when its sudden outburst in brightness, the biggest in the history of comet research, was observed. Scientists from Nicolaus Copernicus University in Torun in Poland have published a series of images illustrating the evolution of the comet.