Spacecraft have now visited four comets. What they found contradicts what was expected and falsifies accepted comet theory. But that theory is woven with every other astronomical theory into a cosmology that defines the universe as we know it. The fall of comet theory will inevitably bring us a new and different universe.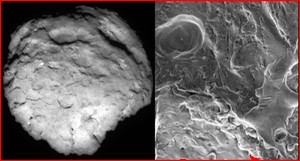 ©NASA/JPL/Malin Space Science Systems
Comet Wild 2 is shown in close-up above. Beside it is a microscopic view of an EDM (electrical discharge machined) surface. Note the flat-floored depressions with steep scalloped walls and terracing. The small white spots on the comet can then be reasonably identified as the active cathode arcs that produce the cometary jets.