The normally sedate Comet Holmes made a bright splash in the sky about two weeks ago, unexpectedly becoming a million times brighter than normal overnight and causing a stir among astronomers.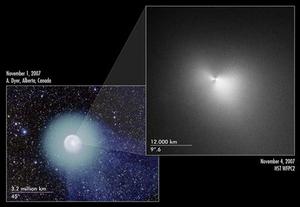 ©REUTERS/NASA, ESA, and H. Weaver/The Johns Hopkins University Applied Physics Laboratory/Handout
A Hubble image (R), taken November 4, 2007, shows the heart of Comet 17P/Holmes. The central portion of the image has been specially processed to highlight variations in the dust distribution near the nucleus. About twice as much dust lies along the east-west direction (the horizontal direction) as along the north-south direction (the vertical direction), giving the comet a "bow tie" appearance. The composite color image at left, taken on November 1, 2007, by an amateur astronomer shows the complex structure of the entire coma, consisting of concentric shells of dust and a faint tail emanating from the comet's right side.