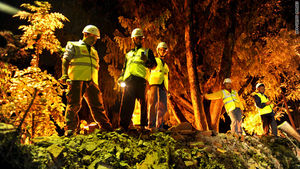 At least 18 people -- 13 in India and five in Nepal -- died when a magnitude-6.9 earthquake struck the northern Indian state of Sikkim near the border between the two nations Sunday night, local government officials told sister network CNN-IBN.
The dead include three in Nepal's capital of Kathmandu, who died when a wall of the British embassy collapsed, according to Kedar Rijal, Kathmandu police chief. They included an 8-year-old girl, her father and a third person.
The British Foreign Office confirmed a "compound perimeter wall" of the embassy collapsed, adding that its ambassador has met with the community and offered condolences.
Police said in a statement that two more people died in the Nepalese town of Dhara, about 217 miles east of Kathmandu. About a dozen people were injured when they jumped from their houses during the quake, police said.