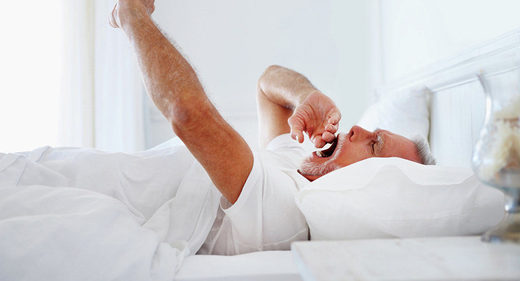 About 1 in 3 Americans are getting less than seven hours of sleep a night, and an estimated 83.6 million adults in the U.S. are sleep-deprived.
1,2
If you're trying to lose weight, you may be surprised to know the amount and quality of sleep you get might be as influential as your choice of diet and exercise.
Research continues to confirm that sleep is an important factor in helping you avoid
diabetes
, heart disease, high blood pressure and
obesity
. Notably, sleeping in on weekends — a practice quite common among teenagers — may be more beneficial for adults than you may have imagined. In fact, it may not be simply what your body wants, but also precisely what it needs.
Weekend 'Catch Up Sleep' Shown to Decrease Body Mass Index
A study published in the journal
Sleep
3
involving 2,156 adults aged 19 to 82, indicates sleeping in longer on weekends — also known as "catch up sleep" (CUS) — may positively impact your weight.
On average, the group of participants who slept up to two hours longer on weekend days than weekdays had a significantly lower body mass index (BMI) than the non-CUS group. Researchers observed that every additional hour of weekend CUS was associated with a 0.12 decrease in BMI. Lead author Dr. Chang-Ho Yun, department of neurology, Seoul National University Bundang Hospital, told Reuters:
4
"Short sleep ... is a risk factor for obesity, hypertension and coronary heart disease, as well as mortality. If you cannot sleep sufficiently on workdays because of work or social obligations, try to sleep as much as possible on the weekend. It might alleviate the risk for obesity."
Yun cautioned that using weekend CUS while sleeping far below the optimal amount during the week would, at some point, result in diminished benefits. He also noted that
sleeping in on weekends is preferable to napping because it is more likely a deeper sleep and follows your body's sleep-wake rhythms.
5
Jean-Philippe Chaput, assistant professor, Healthy Active Living and Obesity Research Group, University of Ottawa, who was not involved in the study, commented:
6
"Short sleepers tend to eat more meals per day, snack more, engage in more screen time and may be less likely to move due to increased sensations of fatigue when not rested."