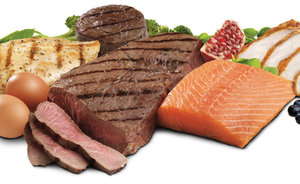 Sometimes the simple story is good enough. I'd venture to say that simple is
usually
good enough, particularly when it comes to health. A good diet? Eat lots of plants and animals, don't eat so many carbs, and stop being scared of natural fat. Training? Lift heavy things, move around a lot at a slow pace (constantly, if you can swing it), go really fast once in awhile, and enjoy what you do. Lifestyle in general? Get some sun, be with your tribe, get into nature as often as possible, inject meaning, laugh, love, and live. There—that gets you most of the way. Simple, right?
Another common piece of advice is "eat protein." And yeah, that's true. We need protein to survive. It's probably the most essential nutrient in existence because we can't make it ourselves. But sometimes digging a little deeper pays off.
Not all protein is created equally.
Protein is composed of up to 20 different amino acids
. Every protein source contains some or all of those amino acids in different proportions, so each source of protein really is different. When we digest protein, what our body actually absorbs and utilizes are those amino acids.
Each one plays a different role in the body, from building and repairing various tissues, performing vital metabolic processes, acting as progenitor for essential compounds, and even
regulating gene expression
. We need amino acids to live
.