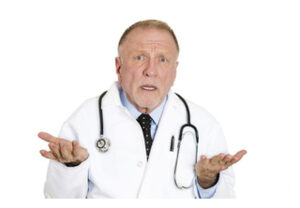 I've been asked why I'm so skeptical when it comes to health and medical science. My answer is because I've spent many hours studying medical history, and I've seen how much damage doctors have done over the centuries. If you were to select a patient-doctor consultation at random from all the ones that have happened throughout history, your odds are probably better of selecting one in which the doctor harmed the patient than one in which the doctor helped the patient. That is certainly true if you only look at consultations happening before the year 1900.
It's a shame that medical history generally isn't part of the curriculum in medical school. If it was, maybe doctors would be more humble about what they know, and what they don't know. If I were to design a medical school curriculum, I would make the first five to ten weeks of medical school an in-depth course in medical history, with a particular focus on all the mistakes doctors and scientists have made through the centuries, and why they made those mistakes. To quote a well worn cliché, those who don't know history are doomed to repeat it.
Personally, I wear my skepticism as a badge of pride. If I were to seek out a doctor for some medical condition I was suffering from, I would want that person to be a natural skeptic.
I would want someone who won't believe something just because that's what they were taught in medical school, or because it's what they heard from a salesperson working for a pharmaceutical company.
I'm going to present four different cases from recent history, that I think show clearly why it's important to be highly skeptical when it comes to the area of health and medicine. Things can often seem to be very beneficial after a few early studies, or because common sense suggests they should be beneficial. Then when more data comes in, sometimes decades after a certain treatment has become the "gold standard" of therapy, it becomes clear that the intervention is actively harmful. In some cases, millions of people have died prematurely as a result of the intervention by this point. When this happens, when something goes from being the recommended therapy to turning around 180 degrees and becoming something that doctors recommend against, it is known as a medical reversal. Unfortunately, medical reversals are common.
Another thing that I think is unfortunate is that scientific methodology is not really something that is taught in school. People even leave university with very limited training in scientific method. This causes the large majority of the population to be unable to weigh scientific evidence themselves, and it makes them totally beholden to the opinions of others. That's why I try to use this blog to educate in scientific method. Science, just like democracy, thrives when lots of people are able to examine different pieces of evidence and think for themselves.
Anyway, let's get to the four cases.