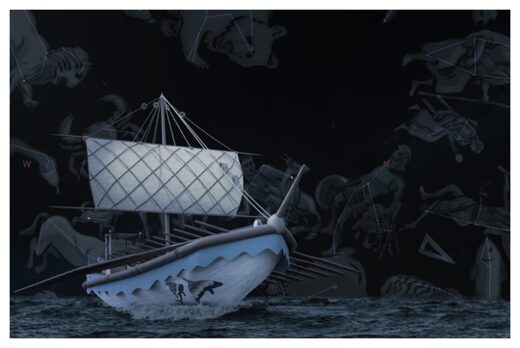 A STUDY PUBLISHED IN
THE JOURNAL MEDITERRANEAN ARCHAEOLOGY AND ARCHAEOMETRY,
SUGGESTS THAT
BRONZE AGE CIVILISATIONS SAILED BY THE STARS USING CELESTIAL NAVIGATION TECHNIQUES SIMILAR TO THOSE EMPLOYED BY POLYNESIAN AND MICRONESIAN CULTURES.
The study by skyscape archaeologist, Alessandro Berio, has uncovered new evidence that the ancient
Minoan civilisation developed significant nautical technologies to aid in the international sea trade,
which is linked to the wealth and expansion of the culture throughout the Mediterranean. Due to its location, reliance on open sea navigation and international trade cycles were at the heart of Minoan culture.
The Minoans were a Bronze Age Aegean civilisation on the island of Crete, which flourished from 2600 - 1100 BC. The term "Minoan" refers to the mythical King Minos of Knossos, a figure in Greek mythology associated with Theseus, the labyrinth and the Minotaur.
The study examined the orientations of the palaces along navigational directions, where the grand rectangular central courts, oriented generally north south on the long axis, are considered the defining architectural characteristic of the Minoan palace construction.
The analysis showed that the axis of the Minoan palaces were oriented toward the rising or setting of important navigational stars, which may have helped sailors to navigate to the bustling commercial destinations in the Levant and Egypt. The orientation of these palaces symbolised Crete's special relationship with foreign trading hubs and the control that local elites wielded over specific sea lanes.