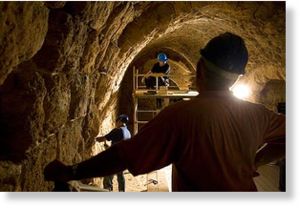 'It's like Pompeii of Roman times,' says Israeli archaeologist, calling Ottoman-era town 'one of the most exciting sites in the world of archaeology'
Off the track beaten by most Holy Land tourists lies one of the richest archaeological sites in a country full of them: The walled port of Akko, where the busy alleys of an Ottoman-era town cover a uniquely intact Crusader city now being rediscovered.
Preparing to open a new subterranean section to the public, workers clean stones in an arched passageway underground.
Etched in plaster on one wall was a coat of arms - graffiti left by a medieval traveler. Nearby was a main street of cobblestones and a row of shops that once sold clay figurines and ampules for holy water, popular souvenirs for pilgrims.