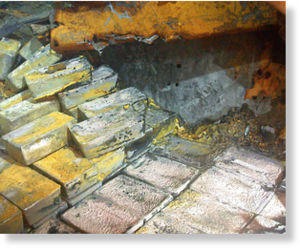 Deep-sea explorers have pulled up 48 tons of silver treasure from three miles below the surface of the North Atlantic in what may be the deepest, largest precious metal recovery in history.
The haul was retrieved from the S.S.
Gairsoppa
, a 412-foot steel-hulled British cargo ship that sank in February 1941.
The expedition, by Odyssey Marine Exploration, a company specializing in shipwreck exploration, recovered 1,203 bars of silver, totaling 1.4 million ounces. Viewers will have the chance to follow the pursuit of the lost treasure on an upcoming Discovery Channel special produced by JWM Productions.
The cache has been transported to a secure facility in the United Kingdom, which contracted the project under the Department of Transport. Under the contract, Odyssey will retain 80 percent of the net value of recovered goods, after expenses, according to a press release.
The
Gairsoppa
was a merchant ship that was torpedoed by a German U-boat during World War II. Since the U.K. government had insured the privately owned cargo under the War Risk Insurance program, it had paid out the owners for the lost silver and then became owners of the lost cargo.
The Odyssey expedition has so far managed to recover an estimated 43 percent of the total lost silver treasure. The company hopes to recover the balance of the silver within 90 days.
Recovering the loot, however, has been no easy task.
"With the shipwreck lying approximately three miles below the surface of the North Atlantic, this was a complex operation," Greg Stemm, Odyssey Chief Executive Officer said in the press release. "Our capacity to conduct precision cuts and successfully complete the surgical removal of bullion from secure areas on the ship demonstrates our capabilities to undertake complicated tasks in the very deep ocean."
Odyssey began its search for the sunken cargo ship in the summer of 2011 and confirmed its location by September 2011. The company says so far they have found no human remains, but in the event that they do they "will be treated with the utmost respect and the U.K. Department for Transport will be immediately notified."
The marine exploration company is also in the process of exploring another British sunken ship, the S.S.
Mantola
, which is believed to hold an estimated 600,000 ounces of additional U.K.-insured silver.
More information on the
Gairsoppa
project, including pictures of the operation, can also be found on
Odyssey's website
.