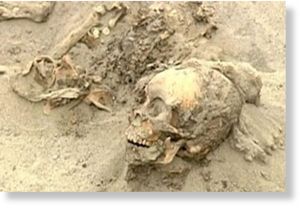 Peruvian archaeologists have uncovered the remains of 12 children and 20 llamas sacrificed some 800 years ago by the pre-Incan Chimu civilization.
The bodies were discovered in good condition during excavations in the northern coast of the country at Huanchaquito, some 500km from the capital Lima.
The bodies were found near the ancient city of Chan Chan, a government and religious centre of the Chimus.
Experts believe the children and animals were killed in a ritual similar to the Incan ceremony known as Capacocha, which was organized before the imminent death or birth of an Incan emperor.
Archaeologists also suspect the sacrifice could have been done to settle down nature's forces because the remains were found amid clay, suggesting they were buried during a rainy season.