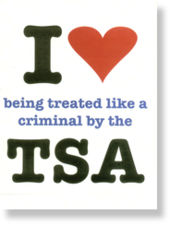 This morning I'll be escorting my wife to the hospital, where the doctors will perform a cesarean section to remove our first child. She didn't want to do it this way - neither of us did - but sometimes the Fates decide otherwise. The Fates or, in our case, government employees.
On the morning of October 26th Mary and I entered Portland International Airport, en route to the Las Vegas wedding of one of my best friends. Although we live in Los Angeles, we'd been in Oregon working on a film, and up to that point had had nothing but praise to shower on the city of Portland, a refreshing change of pace from our own suffocating metropolis.
At the security checkpoint I was led aside for the "inspection" that's all the rage at airports these days. My shoes were removed. I was told to take off my sweater, then to fold over the waistband of my pants. My baseball hat, hastily jammed on my head at 5 AM, was removed and assiduously examined ("Anything could be in here, sir," I was told, after I asked what I could hide in a baseball hat. Yeah. Anything.) Soon I was standing on one foot, my arms stretched out, the other leg sticking out in front of me à la a DUI test. I began to get pissed off, as most normal people would. My anger increased when I realized that the newly knighted federal employees weren't just examining me, but my 7½ months pregnant wife as well. I'd originally thought that I'd simply been randomly selected for the more excessive than normal search. You know, Number 50 or whatever. Apparently not though - it was both of us. These are your new threats, America: pregnant accountants and their sleepy husbands flying to weddings.