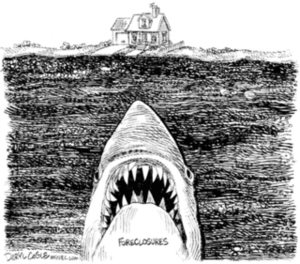 Another trading day and another low for Bank of America's stock.
Shares of Bank of America dropped more than 3 percent Tuesday, hitting a new 52-week low of $5.03 -- its lowest level since March 12, 2009.
It's been a tough year for the troubled bank, which has seen its share price decline roughly 62% from the start of the year.
Among other challenges, Bank of America has struggled under mounting issues related to its mortgage business.
The bank's rapidly declining share price is likely to increase pressure on the bank to slim down and sell assets. Bank of America has already said it plans to lay off 30,000 workers over the next several years.
Back in September, when that layoff announcement was made, investors worried about Bank of America's stock falling below a psychologically jarring level of $6. It dropped below that level on Oct. 3.
The bar keeps being lowered to new, more precarious thresholds. As Bank of America's shares hover near $5, they're still relatively far from the stock's all-time intraday low of $2.53 hit on Feb. 20, 2009.
A spokesperson for Bank of America said the bank does not comment on its share price.
Despite a rally in the stock market Tuesday, shares of most other major banks including Goldman Sachs, Morgan Stanley, and JPMorgan Chase fell.