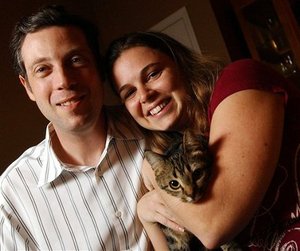 ©AP Photo/Sun-Sentinel, Rhonda Vanover
Seth and Kelly Levy, of Palm Beach Gardens, Fla. holds their 10 month old cat, Gracie Mae at home in Palm Beach Gardens.
Palm Beach Gardens, Fla. - Some kitty math: How many lives did little tabby Gracie Mae use up when she crawled into her owner's suitcase,
went through an airport X-ray machine
, got loaded onto a plane, thrown onto a baggage belt and mistakenly picked up by a stranger far from home?

Comment: How did a cat get through an airport x-ray and not be seen???