Clothing stores in Thailand have seen a rush to buy pink shirts, thanks to a fashion craze sparked by the country's King Bhumibol Adulyadej.
Thais have been queuing in their hundreds to buy the shirts ever since the King left hospital last month wearing both a pink shirt and blazer.
The Phufa fashion chain said it had sold 40,000 pink shirts this month.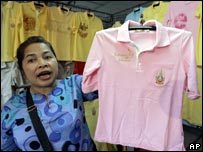 ©AP
Clothing factories are working flat out to keep up with demand