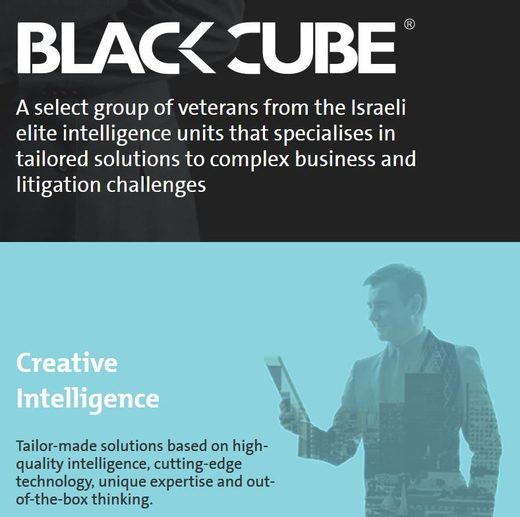 Someone tipped off the
Observer
, the
Guardian
's Sunday edition, about an attempt of Donald Trump flunkies to find dirt about the people who negotiated the nuclear deal (JCPOA) with Iran. An Israeli spy company was hired to set up traps. One of the victims describes how that happened. The
modus operandi
seems similar to one described in another dirty story which surfaced about a year ago. The company, not named by the
Observer
, in question is Black Cube.
The
Observer
:
Revealed: Trump team hired spy firm for 'dirty ops' on Iran arms deal
Aides to Donald Trump, the US president, hired an Israeli private intelligence agency to orchestrate a "dirty ops" campaign against key individuals from the Obama administration who helped negotiate the Iran nuclear deal, the Observer can reveal.

People in the Trump camp contacted private investigators in May last year to "get dirt" on Ben Rhodes, who had been one of Barack Obama's top national security advisers, and Colin Kahl, deputy assistant to Obama, as part of an elaborate attempt to discredit the deal.
...
Sources said that officials linked to Trump's team contacted investigators days after Trump visited Tel Aviv a year ago, his first foreign tour as US president.
...
According to incendiary documents seen by the Observer, investigators contracted by the private intelligence agency were told to dig into the personal lives and political careers of Rhodes, a former deputy national security adviser for strategic communications, and Kahl, a national security adviser to the former vice-president Joe Biden. Among other things they were looking at personal relationships, any involvement with Iran-friendly lobbyists, and if they had benefited personally or politically from the peace deal.
...
Both Rhodes and Kahl said they had no idea of the campaign against them.