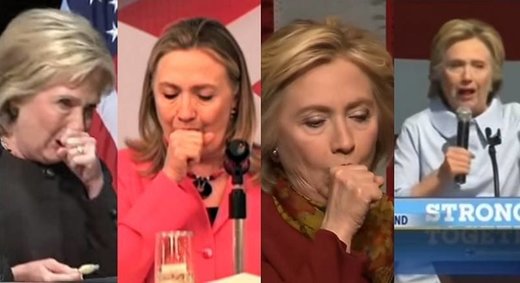 Comment:
The Duran
's Alex Christoforou summed it up nicely:
Maybe Hillary Clinton's terrible cough is not a sickness or lingering symptom from her stroke and blood clot in the brain. Maybe Hillary's cough is psychosomatic. Maybe Hillary's cough is a physical symptoms occurring for psychological reasons. Maybe Hilary's cough is her "tell"...a physical reaction to the ridiculous, dangerous lies that come out of her mouth. Maybe her body begins to cough uncontrollably as a warning signal to her (and to us) that lies have consequences. Maybe Hillary is human, does have a conscience...and the cough is the last remnants of that conscience remaining in what has become a rotting and corrupt shell of a body.

Yesterday Hillary lasted for all but 7 questions from the press (on board her shiny new plane), until her coughing surfaced again...forcing Hillary to abruptly excuse herself. The cause of her coughing...more lies about Russian hacking, Vladimir Putin and Donald Trump. Hillary's cough will go away for good when she does these four things:

Admits that the Russian hacking story was a made up thing, created by her marketing team to divert attention away from her cheating during the Democratic primaries
Admits that Vladimir Putin is a democratically elected statesman, and one of the few leaders trying to enforce international law and geo-political stability
Admits that the Clinton Foundation is a pay-to-play slush fund that took in billions in exchange for political favors
Admits that she murdered Gaddafi, destroyed Libya, funded ISIS terrorists, invaded Syria with jihadist radicals, and instigated a coup in Honduras.

Once Hillary Clinton comes clean and admits to her crimes, then her cough will finally go away. No lozenges or cough syrup will help Hillary. Only the truth can cure this psychosomatic disorder. Until then, every time Hillary spews out dangerous lies, this will happen...
When questions were raised about Barack Obama's birth, and whether he was actually eligible to be president of the United States, he brushed the questions aside as if answering them was beneath the dignity of a prince of the crown. He let the questions fester for years before putting them to rest.
It's still not clear why he did that.
He preferred to accuse inquiring minds that wanted to know of racism and bigotry, as if the peasants had no right to ask questions about the crown prince
. The presidency is the most precious honor Americans can bestow on one of their own, but Mr. Obama treated the gift as nothing more than a trinket he was entitled to, and who were these uppity people to question him?
Only racists, bigots, mean-spirited zealots, right-wing fanatics and white Christians who couldn't appreciate the heavenly music of the call to evening prayer at the mosque would do that. Even the mildest criticism, of the sort that every president before him had to endure, was dismissed as disrespect, even racism.