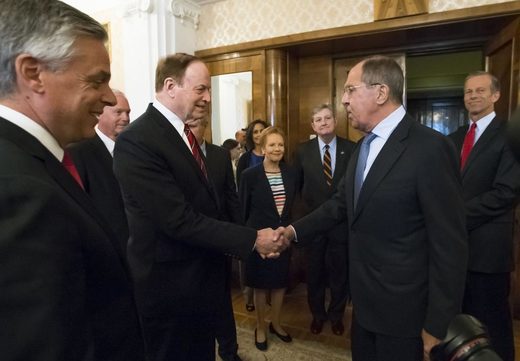 Despite the strained relations between Moscow and Washington, the US must see Russia as a superpower and seek dialogue, the head of a delegation of US lawmakers said after a meeting with Russian Foreign Minister Sergey Lavrov.
The delegation headed by Senator Richard Shelby is in the Russian capital to pave the way for the upcoming meeting between President Donald Trump and his Russian counterpart Vladimir Putin in Helsinki.
Shelby, who spoke to a journalist after meeting Lavrov, was non-committal about what he expected from the presidential meeting,
but said the US should respect Russia.
"We have to look at Russia as a superpower, as a competitor and not an adversary, and we will see what happens,"
he said, adding that Trump and Putin are aiming at a productive negotiation. "I think they both a looking for a better day."