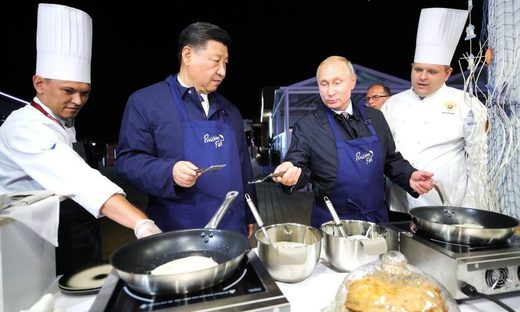 Xi Jinping and Vladimir Putin were involved in a joint cooking venture. Pancakes with caviar (
blin
, in Russian), chased down with a shot of vodka. It just happened at the
Eastern Economic Forum
in Vladivostok. Talk about a graphic (and edible) metaphor sealing the ever-evolving 'Russia-China comprehensive strategic partnership'.
For a few years now the Vladivostok forum has been offering an unequaled roadmap tracking progress on Eurasia integration.
Last year
, on the sidelines of the forum, Moscow and Seoul delivered a bombshell: a trilateral trade platform, crucially integrating Pyongyang, revolving around a connectivity corridor between the whole Korean peninsula and the Russian Far East.
Roundtable topics this year included integration of the Russian Far East into Eurasian logistic chains
; once again the Russian link-up with the Koreas - aiming to build a Trans-Korean railway connected to the Trans-Siberian and a "Pipelineistan" branch-out into South Korea via China. Other topics were the Russia-Japan partnership in terms of Eurasian transit, centering on the link-up of the Trans-Siberian and Baikal-Amur Mainline (BAM) upgrades to a projected railway to the island of Sakhalin, and then all the way to the island of Hokkaido.
The future: Tokyo to London, seamlessly, by train.