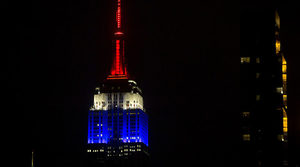 Russia has sacrificed just as much blood, sweat and tears as any country in the fight against terrorism, yet when an apparent terrorist attack kills and maims dozens, this time in St. Petersburg, something seemed missing in the global response.
On my first visit to New York City 10 years ago, I was instantly struck by the number of Russians I encountered. The taxi driver who met me at JFK Airport was a Russian immigrant, and the radio station playing in his Yellow Cab was broadcasting in the Russian language. When I exited the taxi near Central Park, the first conversation I heard in this bustling city of 12 million people was between a Russian woman and a little girl as they were waiting for the light to change at an intersection. And this Russian presence goes far beyond New York City.
From Miami to Manhattan, Russian immigrants are heavily
represented
in American communities, universities and companies. I would guess that in the United States, as well as across Europe, most people know at least one person from Russia. So following Monday's terrorist attack on Russia's second largest city, which killed 11 people and injured dozens, one would expect there to have been an outpouring of solemn, heart-felt tributes to the victims of the blast, right?
Well, yes and no.