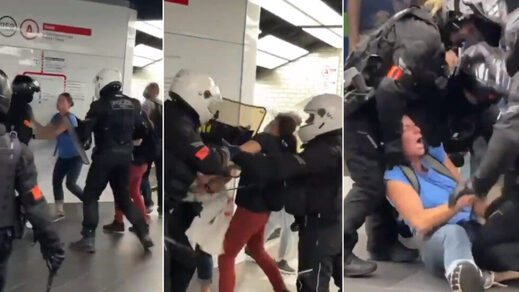 French riot police officers have been scolded for brutally arresting two women, after
backing away when confronted by a big group of protesters against the so-called coronavirus health passes, who stormed a mall in central Paris.
Hundreds of people forced their way into the Forum des Halles shopping center on Saturday, amid a nationwide string of demonstrations against the Covid-19 restrictions and mandates. The group was seen chanting 'Freedom!' inside the mall, which is partially underground and connected to the metro transit hub of Chatelet-Les Halles.
To restore public order, authorities deployed a riot police unit, BRAV-M, a French acronym for the Motorized Brigades for the Repression of Violent Actions - even though the crowd was not even technically defying the ban on entering shopping centers without a health certificate, since Forum des Halles is one of a handful of Paris venues
exempt
from the coronavirus pass mandate.