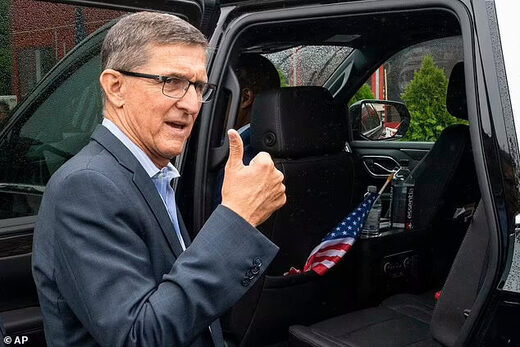 Former White House national security adviser and ardent supporter of QAnon, Michael Flynn, allegedly suggested the far-right political conspiracy theory movement is in fact a disinformation campaign orchestrated by the CIA.
Flynn publicly pledged allegiance to the right-wing conspiracy group last summer, which first originated on internet message boards.
Comment:
Did he, though? Flynn was on video with his family saying the Pledge of Allegiance and some clever editing by CNN made it look like he was pledging allegiance to Q.
See:
Michael Flynn's relatives sue CNN for $75 million over report alleging QAnon affiliation
At the end of oath, Michael Flynn uttered the phrase "Where we go one, we go all," and the entire family responded, "God Bless America." CNN edited out the pledge and the "God Bless America" exclamation and claimed the phrase uttered by President Trump's national security adviser was an "infamous QAnon slogan," the suit alleged.

In fact, Michael Flynn's phrase was drawn from an inscription first "engraved on a bell on one of President John F. Kennedy's sailboats, acknowledging the unity of mankind," the suit stated.

"General Flynn intended to encourage people to think about being good citizens, to love country and be good patriots," the lawsuit said. "The video had nothing to do with QAnon or recruiting 'digital soldiers' for an apocalyptic reckoning."
But in a telephone call that has not yet been independently verified, Flynn, a former adviser to Trump appeared to completely disavow the group as he spoke with pro-Trump election conspiracy theorist and attorney Lin Wood. The man Wood says is Flynn was even heard dismissing QAnon's claims as 'total nonsense.'