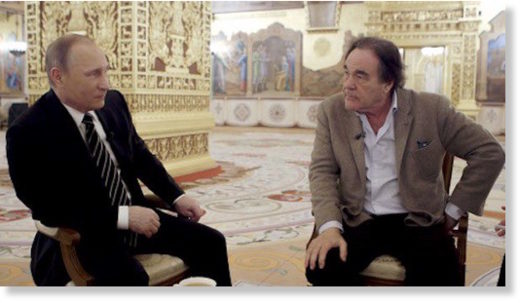 In Salem, Massachusetts in 1692, Susanna Martin was executed for being a witch. The evidence against her was compelling and irrefutable. In capital cases like this, testimony by at least two eyewitnesses was required to convict. One man testified that in 1660 he had seen Ms. Martin bewitch a horse. Another testified that she had broken uninvited into his dreams 20 years later. The judges ruled that this constituted two eyewitnesses to the same crime because witchcraft was a "habitual" crime. She was hanged on July 19.
By similar logic and equally "solid" evidence, Joel Sucher, in a piece titled "Has Oliver Stone Ever Met a Dictator He Doesn't Admire?"
published
in the
Observer
in January accuses Oliver of despotophilia, which Joel too identifies as a "habitual" crime. Joel thinks he knows Oliver. He made a highly laudatory documentary about Oliver in the early 1990s when, he recalls, "Oliver was an aw' shucks, pot-smoking, break your balls, tweak your chain, say outrageous things" kind of guy. But he and Oliver have had little if any relationship since.
I, myself, have been close friends with Oliver for more than 20 years. Oliver and I co-authored The Untold History of the United States documentary film series and
New York Times
bestselling book between 2008 and 2013 and have been writing articles together and doing screenings and lectures around the world for the past four years. In his article, Joel describes me as a "friend and a legit American University historian, an anti-nuclear activist." Joel has been trying to reach Oliver through me for years, but Oliver spurned all his requests, telling me he didn't "trust" Joel.