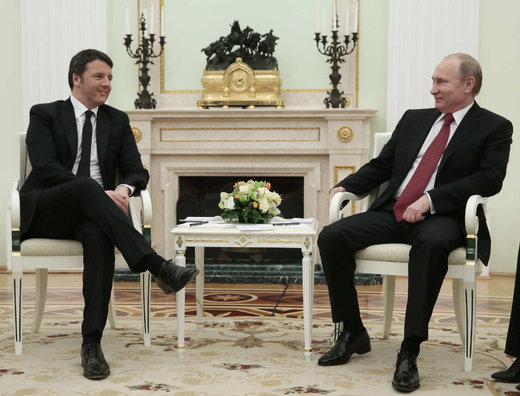 Speeches and discussions by European politicians and businesspeople at SPIEF 2016 suggests an early end to sanctions.
Earlier this month I wrote
a piece
for The Duran in which I said that the sanctions policy forced on the EU by Angela Merkel and the US is cracking. At SPIEF 2016 the evidence of that was everywhere.
The Russians hosted at SPIEF 2016 three EU heavyweights
: EU Commission President Jean-Claude Juncker, Nicolas Sarkozy - the past and possibly future President of France - and Matteo Renzi, the current Prime Minister of Italy.
Juncker had little to say in public though he held extensive discussions with the Russian leadership.
However Sarkozy and Renzi both made clear in their very different ways their utter exasperation with the sanctions policy.
The person who stole the show was Renzi, the most important politician present and the leader of what was by a fair distance the strongest European delegation at the Forum.
The Russians treated Renzi as the main guest and together with Putin and President Nazarbayev of Kazakhstan Renzi delivered one of the speeches at the plenary session.
Comment:
And what do you know? From the last two days:
Venento, Italy, adopted a similar resolution in May. And Lombardy is planning to
vote
on the same issue on July 5. However, as that article on Fort Russ stresses,
Any decisions on ending the sanctions regime are taken by those governments which are tightly controlled by the ruling pro-American mainstream. The US' functioning mechanisms of hegemony in the European Union allow adverse risks to Washington in the form of votes in national parliaments or national referendums to be minimized. It is therefore hardly worth expecting any breakthrough decisions from the French Senate (which on June 8th voted for easing the sanctions against Russia) or the parliaments of Italy (whether regional or national).
Also keep in mind that "133
American bases
are located on the territory of Italy, 18 of which are deployed directly in Veneto. One of the largest military bases in the region is in the city of Vicenza, where a number of episodes of violence by US soldiers against local residents have been recorded (including brawls on the street, in cafes, and in other public places, rape, and so on). The American servicemen who commit such crimes, however, are simply transferred abroad and are therefore not held accountable."