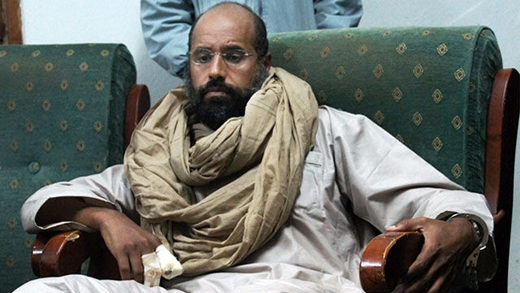 US President Donald Trump has a unique chance to fix the mess in Libya by backing Gaddafi's son Saif al-Islam as head of state.
Libya remains a dysfunctional state largely due to failed American policy. The 2011 Obama/Clinton support to Al Qaida affiliated groups in order to oust Muammar Gaddafi heavily backfired, with ISIS now
profiting
from
the massive wave of immigration, which also destabilizes Europe.
President Trump has a unique chance to fix this terrible mess by backing the appointment of the leader of the Libyan national reconciliation, Saif al-Islam Gaddafi, as head of state
, the only man able to reunite the
tribal nightmare
in Libya,
and to form a proper democracy
, exterminate ISIS, and solve the immigrant crisis.
Millions marched in Libya
July 1st, 2011 in support of the government of Muammar Gaddafi, and pleaded for NATO to stop the destruction of the country. At that time,
the massive support for Gaddafi was not reported in the mainstream media
, yet it was
well known
that Gaddafi had many supporters. Libya was Africa's richest country, a socialist, welfare state with lavish benefits, free education, and good living standards. Since 2003, Libya had opened up towards the West in a liberalization process largely led by Saif al-Islam Gaddafi, who was instrumental in resolving the Lockerbie-bombing issue and paying damages to the victim's families, deescalated the military, removing its nuclear arms and privatized the economy.
It was Saif al-Islam who freed the Bulgarian nurses in Benghazi, led the large scale Benghazi housing projects, created the Charity Gaddafi Association which helped poor countries in Africa, as well as worked diligently to democratize Libya
. He called for a free press and hoped to issue a Constitution of the state. It was also Saif al-Islam who led the Reconciliation Project in 2006 between the government and the opposition, and the peaceful release of political prisoners, like Abdelhakim Belhadj and Khaled Sharef, most of whom joined the rebels and are controlling Tripoli now.