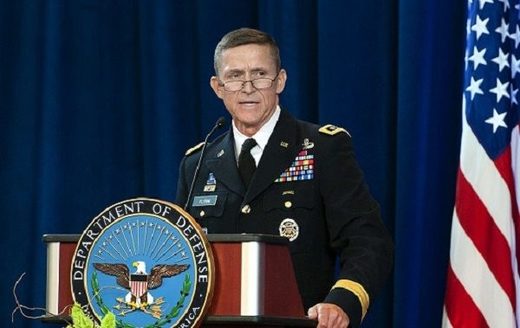 The United States is adding new sanctions on Iran over that country's alleged misdeeds, and nearly all of those allegations are either out-and-out lies or half-truths. It has a familiar ring to it, as demonizing Tehran has been rather more the norm than not since 1979, a phenomenon that has included
fabricated claims
that the Iranians killed American soldiers after the U.S.'s armed interventions in Afghanistan and Iraq. This time around, the administration focused on the perfectly legal Iranian test of a non-nuclear-capable, medium-range ballistic missile and the
reported attack
on what was
initially claimed
to be a U.S. warship by allegedly Iranian-backed Yemeni Houthi fighters. The ship was later revealed to be a Saudi frigate.
Donald Trump's national-security adviser, Michael T. Flynn, "officially" put Iran "on notice" while declaring that "The Trump Administration will no longer tolerate Iran's provocations that threaten our interests. The days of turning a blind eye to Iran's hostile and belligerent actions toward the United States and the world community are over."
Ignoring the fact that Iran cannot actually threaten the United States or any genuine vital national interests, the warning and follow-up action from the White House also contradict Donald Trump's campaign pledge to avoid yet another war in the Middle East, which appears to have escaped Flynn's notice. The increase in tension and the lack of any diplomatic dialogue mean that an actual shooting war might now be a "false flag," false intelligence report, or accidental naval encounter away.