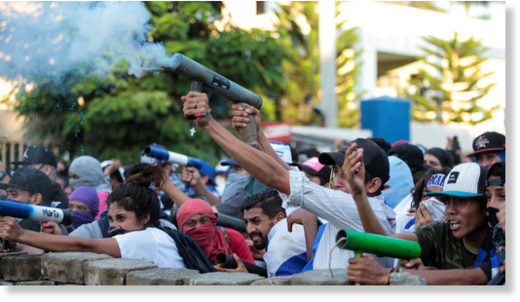 The student-led anti-government movement in Nicaragua is unlike other recent attacks on the Latin American socialist bloc; it emanates mainly from the left of the political spectrum. But that doesn't mean the US isn't behind it.
The so-called
marea rosa
, or 'pink tide', of allied leftist governments which held sway across Latin America in previous years is being rolled back. Brazil's Dilma Rousseff was
removed from power in a right-wing coup
, co-conspirators of which have now managed to
imprison the current presidential frontrunner
, Luiz Inacio Lula da Silva. Ecuador's Lenin Moreno has stabbed his former leader Rafael Correa in the back by
barring him from seeking re-election
, while seemingly
purging
his cabinet of remaining Correa loyalists and beginning the process of
allowing the US military back into the country
. Alongside other democratic and not-so-democratic removals of leftist governments from power, NATO has nabbed itself a foothold in the region, now that Colombia has
joined
the obsolete yet aggressively expanding Cold War alliance, in a thinly veiled threat to neighboring Venezuela.
And now it's Nicaragua's turn under the boot. Again.