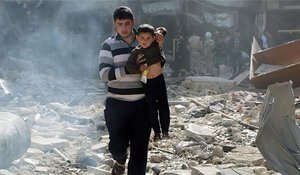 As Syrian government forces recapture more parts of eastern Aleppo, many civilians are risking their lives to flee the besieged opposition-controlled areas, telling the world that the so-called "rebels" stop at nothing to prevent people from leaving.
The Syrian government and its Russian allies have long accused armed opposition groups in Aleppo of holding civilians hostage, whereas western governments and media have been promoting a different narrative in tune with "rebel" and "activist" sources.
This narrative is now falling apart.
When government forces first managed to encircle the opposition-held districts of Aleppo in July of this year, Russian Defense Minister Sergei Shoigu announced the opening of humanitarian corridors "to aid civilians held hostage by terrorists and for fighters wishing to lay down their arms."
[1]
Bashar Jaafari, Syria's ambassador to the United Nations, said in a July 26 letter to the Security Council that "the Syrian Army informed the civilian residents of those neighborhoods that it has secured safe passages, for those who want to safely exit those areas, and that it has allocated temporary accommodation for them."