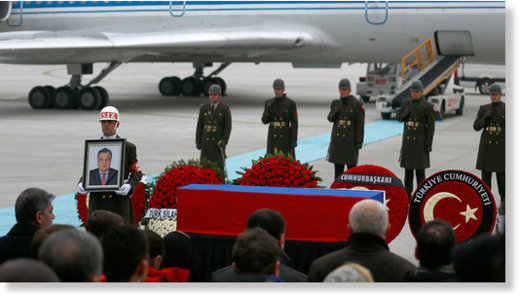 Let's cut to the chase: Ankara 2016 is not Sarajevo 1914. This is not a prelude to WWIII.
Whoever plotted the assassination of the Russian Ambassador to Turkey Andrey Karlov - a cool, calm, collected old-school diplomat - risks a mighty blowback.
The assassin, Mevlut Mert Altintas, was a 22-year-old police academy graduate. He was suspended from the Turkish National Police (TNP) over suspected links to the Fethullahist Terrorist Organization (FETO) after the failed July 15 putsch against Erdogan but
returned
to duty in November.
It's no secret Gulenists heavily infiltrate the TNP; so a particular outcome of the attack will be an, even more, relentless Erdogan/AKP crackdown on the Gulen network. The Turkish investigation will have to focus not only on the (major) security service fail at Ankara's modern art center - but way beyond.
It's not very reassuring that Turkish Interior Minister Suleyman Soylu put out a terse statement a very long three hours after the facts.
The killer in a black suit and tie shouted slogans about revenge "for Aleppo" - the requisite "Allahu Akbar" included - in both Turkish and broken Arabic, something that might establish a connection to an Islamist group's rhetoric, although that's not conclusive evidence.