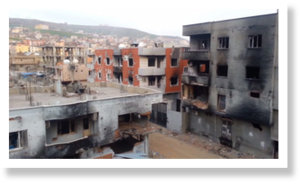 The Rejection of Peace
Turkey's war against its Kurdish population in its current iteration is as much about Erdogan and the Turkish power structures consolidating and maintaining their power as is their crackdown against journalism. It has not been waged as a war to protect Turkish civilians from Kurdish insurgents
but instead as a means to "protect" the oppressive power hierarchies
that exist which seek to maintain the disparate position of the political-economic elite.
Instead of listening to the legitimate grievances of the Kurdish population, Erdogan and the AKP have chosen a strategy of violence, terrorism, and xenophobia in order to degrade the growing political power of the Kurds and to consolidate their rule and the continuation of their criminal policies.
The pro-Kurdish People's Democracy Party (HDP) and the Kurdish military wing Kurdistan Worker's Party (PKK) have not been demanding independence, instead
they have been calling for autonomy
. This in the face of Turkey's political establishment historically treating the Kurds as second class citizens and
denying them the right to be educated using their native language
. In response they have organized societal institutions in a radically different manner than the Turkish state, prioritizing the ideal of
local, non-hierarchical forms of direct democracy
. In their view, as Professor of Economics at the University of Greenwich
Mehmet Ugur explains
, this is because "the nation state is now considered an anachronistic institution; and local democracy (including recognition and representation of distinct identities) has been embraced as a solution not only for the Kurdish question but also for democratisation in Turkey, Iraq and Syria."