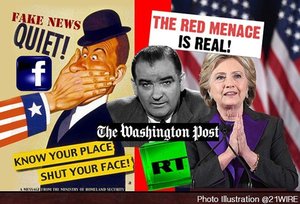 The mainstream media's post-election hysteria has taken on new level of crazy. It seems that
The Washington Post
has gone off the deep end this week, claiming that Russia is behind the "fake news" crisis which they claim helped propel an insurgent Donald Trump to victory on Nov 8th, and they are still standing by the official conspiracy theory that Russia has somehow hacked into the US elections. Everything that's wrong with the establishment media is contained within this incredible story...
The hacking claim is nothing new - backed by the White House and trumpeted by Hillary Clinton, the US mainstream media has claimed that Russia has been hacking and manipulating our US elections. The only problem is...
it never happened.
What's more disturbing though, is the complete collapse in journalistic standards at what used to be considered
'America's paper of record.'
It seems the
The Post
is playing a key role in waging a new McCarthy-style witch hunt targeting any independent websites which dare to challenge the prevailing anti-Russian party line currently dominating the mainstream political and media establishment - evident beyond any doubt after reading this latest feature in
The Washington Post
written by Craig Timberg entitled, '
Russian propaganda effort helped spread 'fake news' during election, Experts say.
'