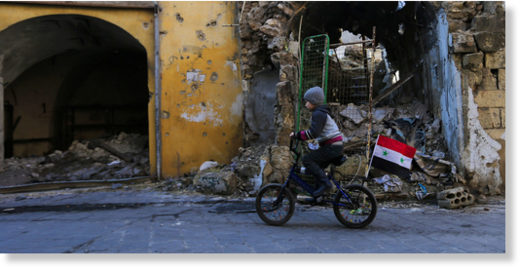 Since the liberation of Aleppo, and the restoring of peace to Madaya and al-Waer, most Western media have gone silent on the areas, even though it is now possible to visit all of them and hear from civilians who lived under the rule of "moderate rebels," which is exactly what jounalist Eva Bartlett did.
In early 2016 the hillside town of Madaya, just northwest of Damascus, was the focus of sudden Western and Gulf
media campaigns
featuring harrowing photos of emaciated elderly and children splashed widely across print, online and social media. Throughout 2016, these stories continued in Madaya, as well as
in al-Waer, Homs
, and in eastern-Aleppo areas.
The Syrian government was accused of not allowing in food and medical aid, of deliberately starving its people; the terrorists' presence was largely unmentioned. On Madaya,
The Telegraph ran
a headline, "Starving Syrians in besieged town of Madaya are reduced to eating cats and dogs," and subheadline, "The people of Madaya outside Damascus - besieged by regime forces and Hezbollah since July - are surviving on boiled leaves and street animals," with no mention of al-Qaeda or Ahrar al-Sham.
The Independent
accused the "Assad regime" of deliberately starving 40,000 civilians and, while citing the Red Cross in the article, neglected to cite that organization stating it had sent in food aid in October 2015, and also failed to mention al-Qaeda's presence in the town. In the same vein,
the New York Times ran a piece
stating aid was denied from coming in, while also ignoring the realities on the ground and prior aid deliveries.