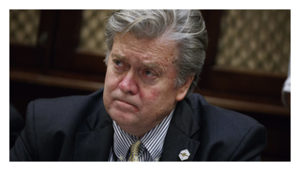 Amidst the deep recesses of Trumpology - the new discipline crammed with "experts" trying to decode the new American presidency - it has become fashionable to deride Chief White House strategist Steve Bannon as a
Jurassic Park
-style sociopathic swamp creature, a "quasi-fascist" comparable to Islamofascists.
(Even though Bannon only metaphorically qualifies as a head-chopper.)
Dismissing
Bannon
as a sort of 21st century remixed Machiavelli/Richelieu in cargo pants and dodgy ties amounts to a juvenile cheap shot. Kelyanne Conway may be a "
knife fighter with words
"; Jared Kushner may have taken the D-train from Manhattan real estate deals to shadow Secretary of State sitting in the situation room. But the man to study in excruciating detail has got to be Bannon, who eats history and political theory essays for breakfast. Dismiss him at one's own peril.
The post-truth Machiavelli behind the most powerful of Princes sees our current geopolitical juncture as the ultimate battle between Good and Evil (no, Nietzsche's verdict, for him, does not apply.) "Good" in our case is Christian civilization and its history of two millennia - with a possible place of honor for the Enlightenment and the Industrial Revolution.
In contraposition, "evil" portends a cast of "existential threat" characters - from technocrats/post-modernity elites/ secularists (the enemy within) to Islam (the enemy at large). Even China, due to atheist Confucianism, might be portrayed as "evil".
So the stakes are clear-cut. Nuance is for traitors. And the only path to victory, according to the Bannon doctrine, is a devastating Shock and Awe against the "system". I have previously referred to Bannon's
Leninist approach
on how to capture and maintain power and destroy the old order. Yet what's coming is more like Lenin meets
Apocalypse Now.