Comment: What can we say about this. Words fail us.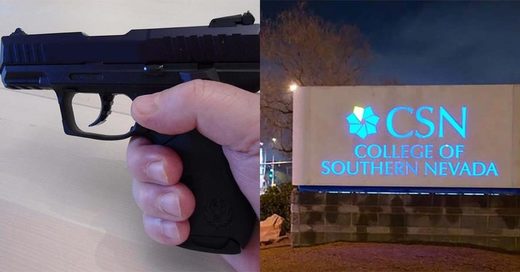 The latest school shooting to occur didn't happen on some high school campus in the suburbs by an angry teen brandishing an AR, but was
carried out by a crazed Trump-hating sociology professor who says he wanted to make a shocking political statement
.
Contrary to what it may at first appear, this story is not from
The Onion
, but a bizarre and all too real event which sent students scrambling as they heard a shot ring out in the bathroom of a campus building. And we're quite sure the students who actually rushed to the wounded professor's aid to save his life once they realized what had happened
aren't fully appreciative of his "political message"
.
Mark J. Bird, a 69-year old longtime sociology professor at the College of Southern Nevada
shot himself in the bathroom of a campus building where he works, and is now facing felony gun charges
after the August 28 incident, revealed for the first time this week based on a police report.
Police confirm in their court report that
the professor
"

had shot himself in protest of President Donald Trump

"
.