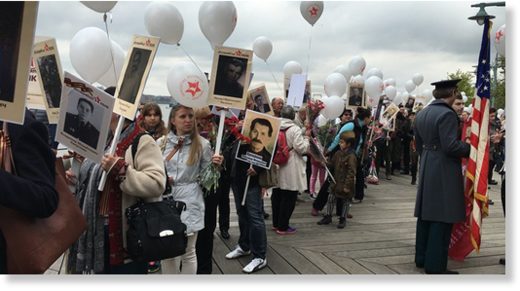 The Immortal Regiment Commemorative marches, marking the 73th anniversary of the end of the World War II, began in the United States.
The first marches of people holding the portraits of their relatives who had fought in the war were held on Saturday on the East Coast.
The marches will be held in more than 20 US cities this year. The largest event is in New York, where it has now been held for four years in a row.
Over 1,000 people came to the Hudson River with portraits of their relatives.
"More people are coming every year. Last year, we had up to 1,500 people. We are counting people by the amount of signs with photos that we help to print, and white balloons. Last year, we prepared 1,500 white balloons and gave them all away. This year, we took 2,000 [balloons] and prepared 400 more new signs," Igor Kochan, a representative of the organization "Russian Youth in America" told Sputnik.