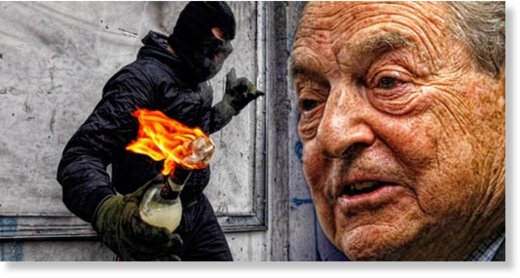 Globalist investor in murder and mayhem
George Soros
is at it again, funding his
MoveOn.org
to organize post-election "sour grapes" protests around the country in response to underdog Trump's surprising President-elect victory. Complicit crime partner mainstream media is having a field day deceitfully spinning these top down, billionaire driven demonstrations as a spontaneous, grassroots populist uprising against racist dictator Donald. From a press release from
MoveOn.org
:
The gatherings - organized by MoveOn.org and allies - will affirm a continued rejection of Donald Trump's bigotry, xenophobia, Islamophobia, and misogyny and demonstrate our resolve to fight together for the America we still believe is possible.
The Soros-affiliated machine
further boasts
:
Within two hours of the call-to-action, MoveOn members had created more than 200 gatherings nationwide, with the number continuing to grow on Wednesday afternoon.
The Washington oligarchy's propaganda ministry wants the world to believe a groundswell of concerned, mindful citizens have taken to the streets in a surge of moralistic patriotic fervor determined to derail the spread of Trump's legitimacy as the so called leader of the "free world," that is if you still believe living in
a fascist totalitarian police state
called Amerika is still "the free world." Thanks to the likes of the Clintons, Obama and the Bushes who've for decades conspired to strip away all our constitutional rights and freedoms in the name of New World Order deep state tyranny, "the free world" no longer exists on this planet.
But the self-righteous, follow-the-leader sheep of befuddled malcontents rioting in the streets across America haven't a clue with propaganda lies now owning them
.