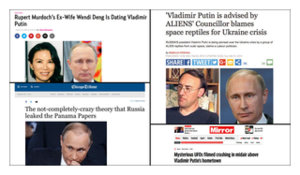 Maybe Vladimir Putin, in tandem with an alien reptile species, leaked the Panama Papers to discredit David Cameron and help force a British exit from the EU?
Percy Bysshe Shelley wrote that
"all around, within, beneath, above is death - and we are death."
That was around two hundred years ago. If the great English poet were writing today, he might replace the subject with Putin. That's because, according to the British media,
"Putin is here and Putin is there, Putin is busy everywhere."
Take the
Daily Mail
for example. Previously, its main concern was always how various things could give you cancer. Indeed, they've now ran the full alphabetic
gamut
from age to zebra toys. My personal favorites were cod liver oil, fatherhood, mouthwash and sex. Which non-
Mail
readers, in their ignorance, probably assume are good for them.
Now, it appears Putin has replaced horrible diseases and English property prices as the
Mail
's main obsession. In the past two weeks alone, the paper has published some startling, often frightening,
stories
about the Russian President. Like revealing that Putin
"is working with an alien reptile species."
If that wasn't spooky enough, UFO hunters apparently have a video of an alien craft flying over his home.
"This isn't the first time Putin has been accused of being in cohorts with alien life or receiving cutting-edge technology from them,"
warns Britain's second most widely read newspaper.
The following day, the
Mail
screamed that Putin had taken a break from the extraterrestrials to buy a flat for a
"beauty queen 40 YEARS his junior."
The
Mail
was
concerned
about how Wendi Deng might react to the news. Deng is the Chinese businesswoman who most of the western media thinks Putin is currently
dating
.
However, as the
Mail
revealed
the very next day,
"Deng and Putin have never been seen together."
Also, as Putin is primarily based in Moscow (with downtime almost always in Sochi) and there is no record of Deng having visited Russia recently, I'd bet my last kopeck that they've never even met. Unless 'Dengput' are having some sort of virtual relationship over Skype, or something. Alas, given that Putin has branded the internet a
"CIA project,"
this is pretty unlikely.