Comment:
Remember those fights that would break out at Trump rallies? And remember the media reaction? And remember how it seemed that violence followed Trump everywhere, therefore Trump was inciting the violence?
It turns out that Democratic Party strategists hired black operatives, some of them convicted criminals, to pay networks of agitators to follow Trump (and later his running-mate Pence) and start fights at Trump rallies precisely so the media would portray Trump in a negative light.
The following is Parts 1 & 2 of a year-long undercover investigation exposing some of the decidedly undemocratic practices of the Democratic Party. In it you will see:
Dirty tricks operatives unwittingly provide dark money trails to the DNC and Clinton campaign
Violence at Trump rallies traced to the Clinton campaign and the DNC through a process they call 'Birddogging'
A shady coordinated communications chain between the DNC, Clinton campaign, Hillary Clinton's Super PAC and other organizations
And you will hear a key Clinton operative say: "It doesn't matter what the friggin' legal and ethics people say, we need to win this motherf**ker."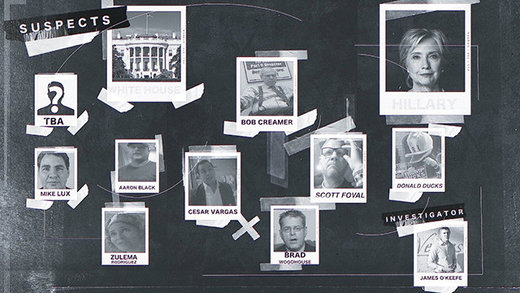 Project Veritas Action has just released the first video in a multi-part series which exposes the dark secrets at the highest levels of the DNC and Clinton presidential campaign. Using hidden cameras, undercover journalists reveal key players coordinating clandestine operations in support of Hillary Clinton's campaign. The video, supported by emails recently released by WikiLeaks, shows that the dirty tricks, lines of communications and the money trail lead all the way to the top.
The video discloses numerous examples of behind-the-scenes shady practices with consequences most Americans have seen on national television at Donald Trump campaign rallies across the country. What the media hasn't reported is that the Clinton campaign and Democratic National Committee has been directing these activities with, at very best, a very thin veil of plausible deniability. This series of videos is the culmination of a year-long investigation by the undercover journalists at Project Veritas Action.