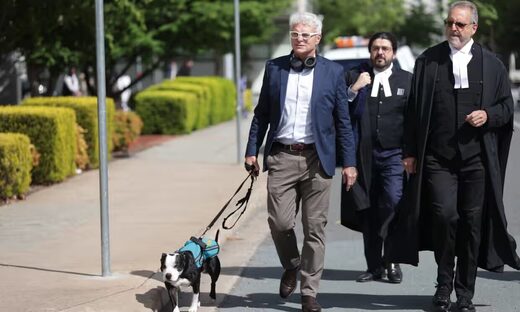 ACT supreme court upholds commonwealth's claim that release of some documents could jeopardise 'security and defence of Australia'.
Whistleblower David McBride has pleaded guilty to three charges after an ACT supreme court upheld a commonwealth intervention to withhold key evidence it deemed as having the potential to jeopardise "the security and defence of Australia" if released.
Originally facing five charges, the former military lawyer pleaded guilty in the ACT supreme court on Friday afternoon to three offences, including stealing commonwealth information and passing that on to journalists at the Australian Broadcasting Corporation.
The ABC subsequently used the material as the basis for an investigative series exposing war crimes in Afghanistan, titled The Afghan Files.
On Friday afternoon, Justice David Mossop upheld the commonwealth's claim that certain documents, if released, had the potential to jeopardise "the security and defence of Australia" and should not be used by the parties.
Outside court, McBride said: "I'll say one thing, and that is, I stand tall, and I believe I did my duty ... and I see this as the beginning of a better Australia."
McBride's lawyer, Mark Davis, said the ruling on Friday had been "a fatal blow" for their case but said they were investigating the possibility of an appeal.
The former military lawyer's wife, Sarah, stood alongside him, saying it had been a tough battle for the family, especially their two daughters.
"I'm not giving up hope. He's done the right thing - I've said that from the beginning," she said. "Truth and justice will prevail and I'm incredibly proud of him, as are his two girls. Please don't give up on him now."
Andrew Berger KC, acting for the commonwealth, on Wednesday said some material in the case should be kept entirely secret on national security grounds.
"The public interest at play here is a very important one, the national security and defence of this country," he said. "Indeed, we say it is harder to think of a stronger public interest than the security and defence of Australia?"