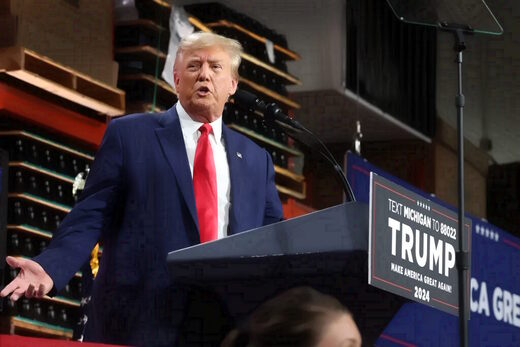 Former President Donald Trump declared Wednesday that he sides with auto workers striking for higher wages but warned that their jobs will be gone within three years because of President Biden's electric vehicle mandate.
Trump, 77, slammed the 80-year-old president's promotion of electric vehicles as a "government assassination" of the US auto industry, as he pleaded with union members in a primetime speech at Drake Enterprises — an auto parts manufacturer outside of Detroit - to urge their leaders to endorse his 2024 presidential campaign.
"To the striking workers, I support you and your goal of fair wages and greater stability, and I truly hope you get a fair deal for yourselves and your families," Trump said. "But if your union leaders will not demand that crooked Joe repeal his electric vehicle mandate immediately, then it doesn't matter what hourly wage you get."
"It just doesn't make a damn bit of difference because in two to three years, you will not have one job in this state," he added.
Trump, who
skipped
the second Republican primary debate as he now appears to be looking past his GOP rivals, touted his track record of protecting American workers and jobs and outlined his "vision for a revival of economic nationalism and our automobile manufacturing lifeblood" during the rally, which was attended by more than 500 autoworkers, plumbers, pipe-fitters, and electricians, according to his campaign.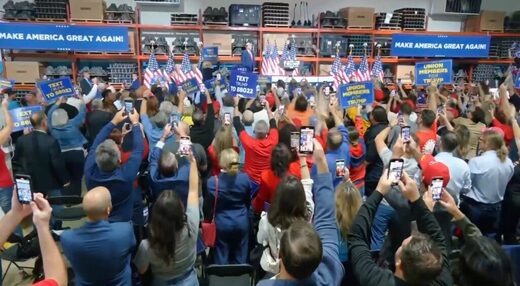 Some in the crowd at the non-union facility held "Union members for Trump" signs as the former president solicited their support in the battleground state.
"The things that you make in Michigan, they don't need any of it," Trump said, accusing Biden of "selling out" to China, environmentalists and "the radical left."
"On day one I will terminate Joe Biden's electric vehicle mandate," the 2024 GOP presidential front-runner declared.
The White House aims to have 50% of all new vehicle production be electric by 2030, and has implemented measures to accelerate the transition. In April, the Environmental Protection Agency (EPA)
issued
historically strict federal vehicle emissions standards which could result in electric vehicles accounting "for 67% of new light-duty vehicle sales" by 2032.
United Auto Workers members have expressed concerns in their demands about the shifting landscape of the industry — partly due to the electric vehicle push, which would require fewer laborers.
Despite the opposition, Biden himself
joined
the strikers in a Michigan picket line Tuesday — for all of 12 minutes.
"Yesterday, Joe Biden came to Michigan to pose for photos at the picket line but it's his policies that send Michigan autoworkers to the unemployment line,"
Trump said, accusing Biden of only visiting the picket line after he announced his Detroit-area rally.
"You got to come to your head man, Shawn," Trump implored the crowd, referring to UAW President Shawn Fain. "I've been watching him on television - he's a good man. I think he's a good man. But he's got to, actually, he's got to endorse Trump."
Before Trump's hard line on EVs, the former president had offered support for their production,
saying
in a 2020 debate against Biden that he was "all for electric cars" and that he had "given big incentives for electric cars."
In 2019, Trump backed General Motors' plan to sell their Lordstown, Ohio manufacturing plant to Workhorse to produce electric trucks.
"GREAT NEWS FOR OHIO! Just spoke to Mary Barra, CEO of General Motors, who informed me that, subject to a UAW agreement etc., GM will be selling their beautiful Lordstown Plant to Workhorse, where they plan to build Electric Trucks," Trump
tweeted
at the time.
In 2020, Trump hosted an event at the White House celebrating Lordstown Motors' new electric pickup truck,
calling
it an "incredible vehicle." Lordstown Motors
filed for bankruptcy
this past June.
"President Trump is 100% opposed to Biden's cruel government mandate forcing a rapid and reckless transition to electric vehicles far beyond what consumers want, what workers can accept, what manufacturers can affordably produce, and what our infrastructure can even sustain," Trump campaign spokesman Steven Cheung told
The Post
. "President Trump never mandated anything. He is for consumer choice and the protection of the American autoworker, and always has been. Joe Biden is for his brutal government dictate that stabs union workers in the back and kills their jobs to send the auto industry to China."
"Saying you're for electric vehicles isn't the same as saying you're for mandates," added the Trump ally.