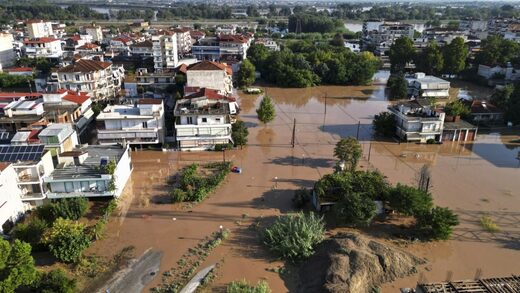 The number of
confirmed deaths from recent flooding in central Greece rose to 15
after the bodies of four people previously considered missing were found on Sunday, authorities said.
Three of the bodies were located in villages near the city of Karditsa in western Thessaly. They are an 88-year-old woman and her 65-year-old son, who were found in their home, as well as a 58-year-old man whose body was found between two villages.
The coast guard said Sunday that the body of a 42-year-old man, missing since Tuesday, was found floating in the sea near the city of Volos. He was last seen in his car unable to control it in raging waters.
Greece's fire service said that since flooding hit central Greece on Tuesday it has evacuated nearly 3,500 people.
Rescue efforts continue.
The flooding appears to have subsided, although the Pineios river, the major waterway in Thessaly, is rising at its mouth, Fire Service spokesman Yiannis Artopios said Sunday evening.
The coast guard said it rescued 335 persons stranded in the Pelion peninsula between Thursday and Saturday.