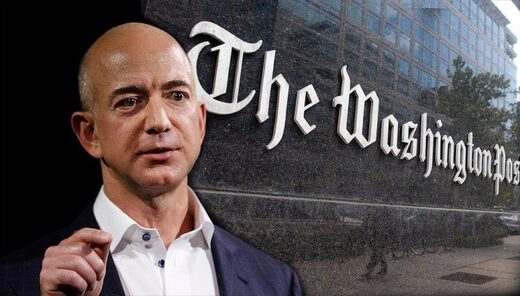 Bezos bought
The Washington Post
for $250 million in 2013
Ten years after
The Washington Post
was purchased by Amazon founder and billionaire Jeff Bezos, the outlet is "on a pace to lose about $100 million in 2023," according to a recent
New York Times
report.
Bezos took over the
Post
for $250 million in 2013, in one of the most significant media acquisitions of the last decade. The
Post
's famous saying, "Democracy Dies in Darkness," became the official slogan of the paper in 2017, under Bezos' watch.
But it seems that even Bezos could not turn around
The Post
's flagging popularity with readers.
"The
Post
has struggled to increase the number of its paying customers since the 2020 election,
when its digital subscriptions peaked at three million. It now has around 2.5 million," The
Times
wrote in a story headlined, "A Decade Ago, Jeff Bezos Bought a Newspaper. Now He's Paying Attention to It Again."
Leadership at
The Post
was hopeful about the future of the outlet.
"I'm very enthusiastic about what we can do here at
The Washington Post
in the decade ahead," interim executive Patty Stonesifer reportedly said. "Jeff's second decade of ownership of
The Post
should be even more exciting."
Two people "familiar with [Bezos'] interactions" with
The Post
said that the billionaire's interest in the paper initially lasted for "several years" before he "receded somewhat," according to the report.
"That changed in January, after Ms. Buzbee spoke with Mr. Bezos and conveyed an urgent message: Morale was low at
The Post
. Much of it, she said, stemmed from missteps by the newspaper's chief business executive, Mr. Ryan, according to two people familiar with her remarks."
But this year, Bezos "made a rare appearance in the newsroom," sitting in on a "morning news meeting."
Behind the scenes, Bezos has "weighed in" on a new project for
The Post
's opinion section. "The initiative — which doesn't yet have an official name — is exploring a forum for readers in cities across the United States to submit their own opinions and commentary,"
The Times
wrote.
Fox News Digital reported in June on
Fred Ryan
's departure from
The Post
from his position as chief executive, as the outlet continued to grapple with staff turnover and declining online subscribers.
A
Post
insider said Ryan's news came as a surprise, and it was possible Bezos pushed him out to bring in younger leadership.
"Hard to say whether he was pushed or jumped... We're still hiring, still expanding. But Fred is 68. So... if I had to guess — and it's strictly that — I'd say Bezos is getting impatient and wanted to get fresh blood," they said, adding the subscriber loss was substantial. "Pretty clear Bezos is worried."
The Washington Post
and Bezos did not respond to requests for comment from Fox News Digital.
Jeffrey Clark is an associate editor for Fox News Digital. He has previously served as a speechwriter for a cabinet secretary and as a Fulbright teacher in South Korea. Jeffrey graduated from the University of Iowa in 2019 with a degree in English and History.