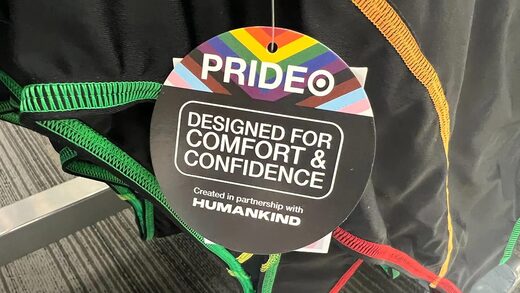 'Satan loves you and respects who you are,' Target pride partner's social media post reads.
Target has found itself
in hot water
again over its gay pride collection, this time because of its partnership with a controversial designer.
The major retailer partnered with
U.K.-based brand
Abprallen to sell merchandise with pro-LGBTQ messages to celebrate Pride month. A search on Target's website finds some of the items.
While the company was already under a microscope over its "tuck-friendly" swimsuits, some social media users were angered to discover that Abprallen's designer Eric Carnell is also an outspoken Satanist whose brand features occult imagery and messages like "Satan respects pronouns" on brand apparel.
Abprallen also sells merchandise with aggressive messages attacking critics. Pins with the phrases "heteronormativity is a plague" and "burn down the cis-tem" are featured on the website along with one that says "homophobe headrest" with
an image of a guillotine.
Carnell, the transgender designer behind the brand, explained in
an Instagram post
that Satan represents "passion, pride and liberty" and "loves all LGBT+ people."
"Satanists don't actually believe in Satan, he is merely used as a symbol of passion, pride, and liberty. He means to you what you need him to mean. So for me, Satan is hope, compassion, equality, and love. So, naturally, Satan respects pronouns. He loves all LGBT+ people. I went with a variation of Baphomet for this design, a deity who themself is a mixture of genders, beings, ideas, and existences. They reject binary stereotypes and expectations. Perfect," he said.
However, the Abprallen
designer told The Daily Dot
that the merchandise mentioning Satan is tongue-in-cheek.
"I don't believe in Satan. I don't believe in the Bible.... It's a metaphor," Carnell said.
The polarizing partnership caused an uproar from conservatives and parents rights advocates on social media.
"Why did
@target
hire a Satanist to design pieces for their recent 'Pride' clothing line?" Scarlett Johnson, a Wisconsin county chair for grassroots group Moms for Liberty, wrote on Twitter.
She shared other social media posts from Abprallen encouraging transgender people to affiliate themselves with Satan. In one post, the designer claimed Satan loved and respected LGBTQ people, so they should "hang with Satan instead."
"WTF," Johnson wrote in response.
The Abprallen designer responded to the backlash by mocking "transphobes."
"These have already got the transphobes infuriated with me and I feel like quite the celebrity to think that they believe this is all some big conspiracy and I have any power to brainwash anyone when I'm just some guy drawing pictures!" the artist wrote.
Abprallen is currently selling two products on Target's website, a messenger bag that says "Too queer for here" and a sweatshirt that says "Cure transphobia." Neither product features Satanic imagery. However, Carnell suggested more products with Target would drop later in
the Instagram announcement.
Critics compared Target to Bud Light, after the brand faced backlash for partnering with transgender influencer Dylan Mulvaney.
The campaign account for Rep.
Nancy Mace
, R-S.C., wrote, "Bud light: shocks and insults their customers. Target: hold my beer."
Fox News Digital reached out to Abprallen and Target for comment. This article will be updated with any response.
Target was famously at the center of a transgender bathroom debate in 2016. Responding to bathroom laws across the country, the company stated that transgender employees and guests were welcome to use the bathroom that matched their gender identity.
Three years ago, Target also briefly caved to activists by
pulling a book
documenting the transgender "craze" among teenage girls from shelves. The store later reversed course.