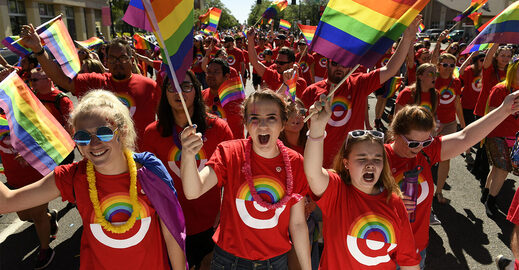 Retail giant Target rolled out an "LGBT Pride" collection that includes so-called "tuck-friendly" wear and rainbow-colored onesies for infants and children — stoking conservative outrage that echoes the Bud Light fiasco.
"Target about to become Bud Light 2.0," tweeted Citizens Free Press, a conservative news outlet, referring to the backlash against the nation's top-selling beer over its tie-up with trans influencer Dylan Mulvaney.
Target's line of trans options, promoted on its website ahead of next month's Pride Month, sparked even more fury because it targets kids.
The items include bathing suits with "tuck-friendly construction" and "extra crotch coverage."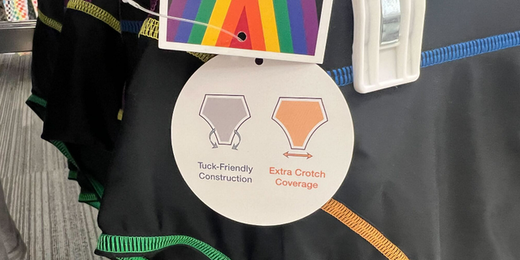 Other offerings that raised conservative hackles include T-shirts that say "Pride Adult Drag Queen 'Katya,'" "Trans people will always exist!" and "Girls Gays Theys,"
"Look at how ridiculous this is," wrote Twitter user who goes by the handle
"Gays Against Groomers."
The user posted a video showing a woman as she shops in the children section at an unidentified Target.
"This is such bulls-t," the user tweeted.
The account added: "It is highly inappropriate and disturbing. We hope there are enough parents out there that understand how wrong this is and show them that this garbage will not sell."
"The only thing these people understand is money," the account said.
"Target deserves the Bud Light treatment. We will work to put the pressure on them."
The
Post
has sought comment from Target.
"What @Target is doing is far worse than anything Bud Light did," The Daily Wire commentator Matt Walsh said.
"They are selling chest binders and 'tuck-friendly' bathing suits for children."
Critics accuse Target of pursuing an agenda similar to that of Bud Light, which came under fire for its partnership with Dylan Mulvaney.Instagram
Corporate America's bid to appeal to more diverse audiences has been met with
resistance
in some quarters — most notably after Mulvaney touted Bud Light on April 1.
The post
ignited boycott calls
to boycott Bud Light, resulting in year-over-year sales plunging nearly 25% for the week ending May 6.