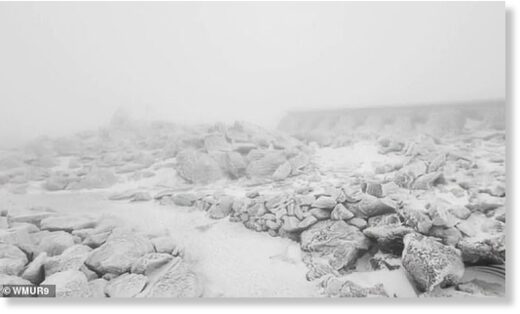 It may be just weeks until summer stars - put parts of New Hampshire are still seeing midwinter weather, with a thick blanket of snow covering areas of the Granite State.
The Mount Washington Observatory noted the absurdity of seeing the white stuff this time of year in a Facebook post after the beauty spot was given a thick coating.
'The calendar might read mid-May but the White Mountains will feel more like late March Weds into Thurs morning,' the observatory said.
Clarksville, New Hampshire - a town about two hours east of Montreal - also saw visible snowfall on Thursday, although it did not lay on the ground.
Areas at 4,000 feet above sea level saw a possibility of three inches of snow Wednesday going into Thursday.
There was also a wind chill advisory in effect, with temperatures that felt anywhere from 15 degrees to zero, according to
CBS News.
Mount Washington is the highest peak in New England, going up to 6,288 feet above sea level.
The mountain's observatory warned of slippery tail conditions made by new snow on top of old, seasonal snow.
They also recommended that any hikers coming through wear spikes so they don't fall.
Though mid-May snow is rare even in the northeast, they're not the only part of the United States to see snowfall this month.
A record May snowfall buried parts of Michigan´s Upper Peninsula under more than 2 feet of snow this week, with one spot getting twice that amount over several days starting in late April, the National Weather Service said.
About 28.7 inches of snow fell between Sunday morning and Tuesday afternoon at the weather service's Marquette office, where records date back to 1959, the
office said.
A record-setting 26.2 inches of that fell between Monday and Tuesday in Marquette, making it the snowiest May on record in the city overlooking Lake Superior, said meteorologist Don Rolfson.
About 19.8 inches of the snow fell Monday in Marquette and that became the largest snowfall recorded in a day in the month of May in over 50 years, he said. The snow was very wet, making it heavy, slushy and difficult to remove from roadways, Rolfson said.
While it's not unusual for Marquette to get some May flurries, he said this week's snowstorm was abnormal.
"It´s late spring now so, it´s gotta just be a really unusual situation to get snowfall like this," Rolfson told
The Detroit News.
Other areas across the north and central Upper Peninsula also received a lot of snow, he said, with Herman Township in Baraga County receiving 52 inches (132.1 centimeters) between April 29 and May 2.